Euro 2012: England fans could be hit by new ticket limit
Last updated on .From the section Football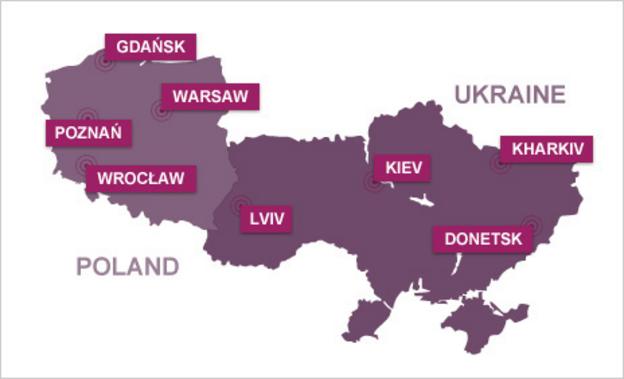 Twice as many tickets could be made available to sponsors than to England fans for the later stages of Euro 2012.
Uefa has reduced tickets given to teams in the quarter and the semi-finals to 5,000, while sponsors and dignitaries will receive 15% of the allocation.
"It's outrageous - once again fans are being sold short," said Mark Perryman of the England supporters club.
But the Football Supporters Federation said: "It's still the most fan-friendly ticketing system of any tournament."
European football's governing body had previously reserved 20% of the stadium's capacity for each competing nation.
But, in recognising the logistical difficulties of transporting supporters around host nations Poland and Ukraine, Uefa has opted to reduce the allocation.
"We have reduced the capacity of supporters to 5,000 each," stated Martin Kallen, Uefa's operations director for Euro 2012. "It makes it easier logistically than when we have 20% of the capacity for each.
"With England there is not this problem but some countries do not have as many supporters and we want to give local people a chance to ensure we have full stadiums."
Tickets for the final, played at Kiev's 70,050-capacity Olympic Stadium, will be limited by Uefa to 9,000 per team.
Uefa maintained that 85% of tickets will end up in the hands of fans, and that remaining tickets will be allocated to member associations, sponsors, broadcasters, government authorities and corporate hospitality.
But for a game played in Kiev, which also hosts one of the quarter-finals, the remaining 15% will amount to over 10,500 tickets, double that which will officially be allocated to fans of the teams who get there.
England Fans member Perryman commented: "You've got to get the balance right - obviously the locals have got to have tickets. The expenses of the tournament will be payed for in taxes by the population and they've got a right to go to the matches.
"But surely the majority of tickets should go to the two competing nations - it should be at least 25% each.
"We're realists - if sponsors have put money into a tournament, they expect tickets. But there's no reason in the world why they should be getting thousands.
"I'm not worried about locals who are football fans wanting to go to a football match," Perryman added. "I'm worried about corporate executives going to a match that they're not really that bothered about."
While the Football Supporters Federation (FSF) are concerned about the potential for more tickets being allocated to sponsors than England supporters, they say the system is "vastly improved" from previous tournaments.
"In an ideal world you would want all the tickets to go to the fans and not anybody else," said Kevin Miles, the FSF's International Director. "But Uefa's system for Euro 2012 is a huge improvement on World Cups, where only 48% of tickets go to the fans.
"It's also an improvement on previous Uefa tournaments and it's a big step in the right direction.
"I'm reluctant to condemn the whole ticket system on one bad point, they've done a big consultation with all the supporters associations and they can't please all the people all of the time."
Miles added: "Is it outrageous that more tickets could be made available to sponsors than to England fans? Yes. But is the ticketing system outrageous? It's actually the best we've ever had."
For the first time in European Championship history, teams and supporters who have played exclusively in one country could find themselves playing in another in the knockout stages.
Of the eight venues to be used, five have been specifically built for the first major football tournament to be staged in eastern Europe.
As well as Kiev, the other three quarter-finals will be played in Warsaw's National Stadium, which holds 58,145 fans, Gdansk's 44,636-capacity PGE Arena and the 51,504-capacity Donbass Arena in Donetsk.
The semi-finals are due to be played in Warsaw and Donetsk.