Ex-Wales captain Barry Horne 'honoured' by Wrexham role
Last updated on .From the section Football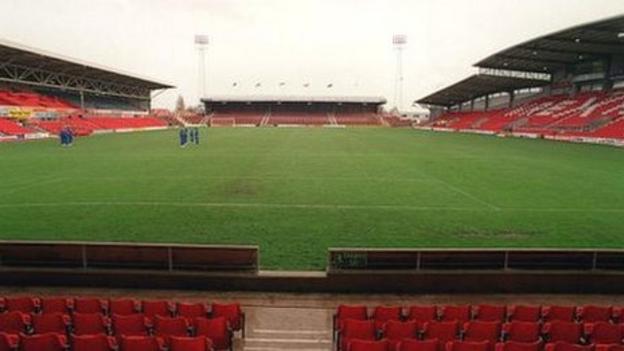 New Wrexham director Barry Horne says he will not be getting involved with footballing matters at the Blue Square Bet Premier club.
Horne has joined the board after the Supporters' Trust were finally given the go ahead to takeover the club.
Although happy to offer help if asked, the ex-Wales captain will not interfere with boss Andy Morrell's work.
"What I will not be doing is having any opinion on team selection [and] team tactics," he said
"That is entirely up to Andy. I will have no opinion on anything that is the manager's job."
Wrexham are now owned wholly by supporters following approval by the Football Conference after a prolonged takeover process.
Player-manager Morrell has said the club's priority is to renew player contracts and to give him and his assistants Billy Barr and Michael Oakes formal deals.
Horne, who began his professional career at the Racecourse, acknowledges renewing contracts is one of the priorities for the new board during the coming months.
"Clearly the players who are out of contract is a live issue and a burning issue," added Horne.
"Andy knows where he's up to until the year. It will be sorted as soon as possible.
"There are other pressing matters as well on the financial side and I suspect the two things of course will be related."
The former Everton and Southampton midfielder says he is "honoured" to have been asked to join the board of directors.
"I've always said to whoever was running the club if there's ever anything I can I do in any small way to help I'll gladly do it," he said.
"Whilst I never asked or hinted I'd like to make a formal arrangement I was delighted when it was.
"There's a wealth of experience, a wealth of knowledge from finance, HR and marketing [on the board].
"But there's one thing they felt they were maybe missing and that was somebody who had spent a long time on the inside of football.
"I was chairman of the PFA [Professional Footballers Association] and a member of the manager committee for best part of a decade.
"So I think they felt that was important and helpful."