Floodlight fire sees 'Well v Hibs game abandoned
Last updated on .From the section Football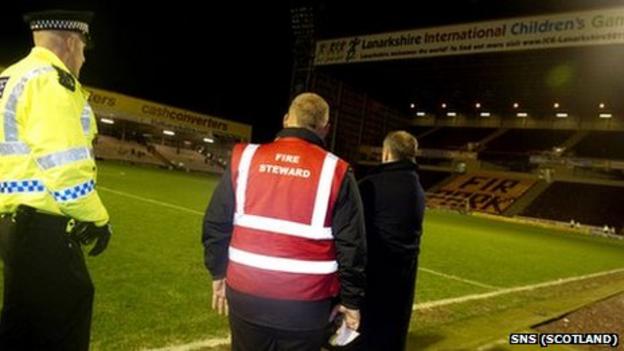 Motherwell's Scottish Premier League clash with Hibs at Fir Park was abandoned because of a floodlight fire.
Hibs had led 1-0 at half-time - courtesy of Garry O'Connor's 16th minute strike - in manager Pat Fenlon's first game in charge.
But a small electrical fire within a floodlight in the South Stand saw the second half delayed.
And the match, in front of 6,741 fans, was then abandoned on safety grounds.
The game was the second Friday SPL fixture of the season and Motherwell had slashed ticket prices in an effort to attract more fans through the turnstiles.
More than 6,700 supporters took in the opening 45 minutes before being told over the public address system that the match had been abandoned because of "circumstances outwith our control".
Motherwell manager Stuart McCall said it was disappointing but stressed that the safety of everyone inside Fir Park was paramount.
"We weren't happy with the first half performance and I think the players were desperate to get out and get on with it," he told BBC Scotland's Sportsound.
"It could've been worse, we could've been winning 1-0. I feel for Hibs.
"Hibs have brought a good following and we've had good backing and it's not the way we wanted Friday night football to end."
McCall's Hibs counterpart Pat Fenlon expressed disappointment because his players had been impressive in the opening 45 minutes.
"It's outwith our control and isn't a football decision. So there's not a lot we can do about it," said Fenlon.
"I'm disappointed the game's off but delighted with the performance. For 45 minutes I thought we were very good and I told the players that.
"Hopefully we'll finish the game next time."
The police match commander, Chief Inspector Brian Connel, said officers could see smoke on the CCTV system shortly before half time, coming from the south-east corner of the South Stand.
"Fire & Rescue identified the seat of the fire was in the electrical framework for the lighting column. Initially it was clear there had been an electrical fire," he added.
"They managed to isolate part of that frame, however, I could not be given assurances there was not the danger of further fire or the fact they would need to isolate the light, whereby the floodlight would have been off anyway.
"The match officials delayed the start of the second half as long as they could but, not getting the assurance it was going to be safe, we had to abandon the match."