Kilmarnock game call-off upsets Dunfermline chairman
Last updated on .From the section Football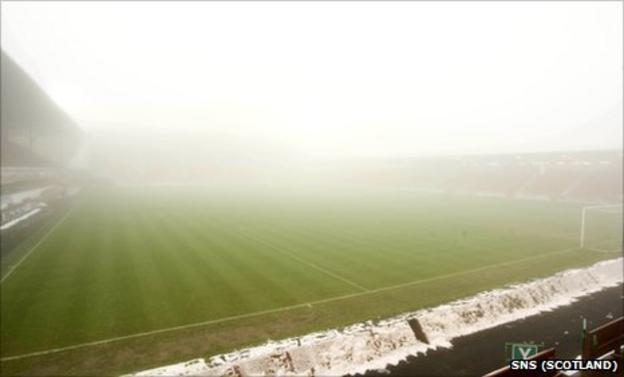 Dunfermline chairman John Yorkston was furious that his club's home match with Kilmarnock was postponed less than 90 minutes from kick-off.
A pitch inspection at 1330 GMT determined that visibility at East End Park was insufficient to allow the match to proceed safely.
"It's totally unbelievable," Yorkston told BBC Scotland.
"The police commander said there's no reason he can see why the game couldn't go on. I intend to take this further."
Dunfermline's match was one of six called off in Scotland this weekend, with the other five in the Scottish Football League.
But Yorkston felt there was no justifiable reason for referee Bobby Madden to cancel the game at East End Park on safety grounds.
"It's absolutely ridiculous," said Yorkston. "How is it dangerous? You can see the full length of the park.
"Standing in one corner, I can see the opposite corner flag and the opposite stand.
"There's absolutely no reason why the game could not be played as we speak.
"The weather may change, but it might change for the better.
"The police aren't concerned about safety. What safety is the referee talking about?"
Yorkston estimated the decision could cost the club between £20,000 and £40,000, not all of which would be recouped by the rearranged fixture, which would likely take place on a midweek evening.
Fourteen staff and volunteers had worked in the morning to clear the pitch of overnight snow and the surface was in good condition, while hospitality areas were packed and supporters had made the journey from Ayrshire for the match only to return without seeing any action.
Kilmarnock and their manager Kenny Shiels left Dunfermline promptly, while the Pars took the opportunity to train, with visibility improving inside the ground.
Madden defended his decision after Yorkston's criticism.
"My decision was made at 1.30pm," he said. "I needed to take a decision at that time for the best interest of all parties.
"It was definitely not playable. What happens thereafter is not my concern."
Madden, who said that the police were not involved in the decision, insisted it was right to make the call early, rather than face the prospect of starting and then abandoning the match.
"I would always be cautious," he said. "I think it's important if any decision can be made as early as possible to protect all parties. That's what I've tried to do."
Dunfermline manager Jim McIntyre had sympathy for Madden.
"Both managers and teams wanted the game on, but he was worried about whether," he said.
"As the afternoon wore on, it would become a bit farcical.
"We've just got to accept the decision. Whether it's right or wrong, he's made it."