Invernesss manager Terry Butcher happy with St Mirren win
Last updated on .From the section Football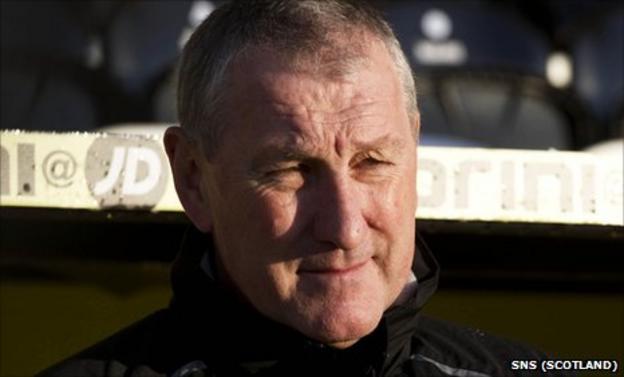 Inverness manager Terry Butcher was pleased to see his side creep off the bottom of the league table following their 2-1 win away to St Mirren.
Butcher's side have been on the foot of the table for most of the season, but victory in Paisley saw them jump to ninth place on 15 points.
"It's a lovely feeling," said Butcher.
"It was a gritty performance. It's a tough place to come - but we enjoy coming here because we've had some good results here."
Andrew Shinnie opened the scoring for Butcher's side in the 11th minute after a blunder in the home defence and a superb second-half strike from Jonny Hayes sealed the points after Steven Thompson had levelled the scores on the stroke of half time.
Butcher said he was pleased with the win, but admitted his side have played better in other matches without anything to show for it.
"We haven't had back to back wins all season," said Butcher. "We've only beaten two teams - but we've beaten them twice.
"We all know we need to wins football matches and we won today.
"We've played better than that and lost, so sometimes it's nice to go the other way and not play as well as we can do and still pick up three points."
Shinnie's early opener put the visitors at ease and Butcher praised the quality of Hayes' finishing for the winner, even though he had criticised the player during the interval.
"Andrew is one of those players that you've got to fit into your side, because he's skillful," said Butcher.
"He makes good breaks forward into the box and keeps the ball. It wasn't quite his best game, but he did score.
"Jonny set one up and scored the winner, but I still wasn't happy with the way he played - but he's that sort of player.
"I said it to him at half-time, and it came true - I said he could be our match-winner - and he certainly was.
"Everyone was tremendous - they're a young team, with one or two old codgers in the side.
"The youngesters have got heart, but they're learning all the time."