England can win Euro 2012 - Sven-Goran Eriksson
Last updated on .From the section Football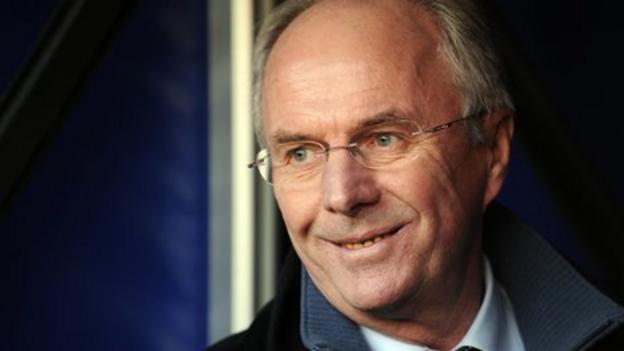 Sven-Goran Eriksson believes England can win Euro 2012.
The former England manager also backed Tottenham boss Harry Redknapp to succeed Fabio Capello.
Eriksson, speaking to Sportsweek on BBC Radio 5 live, said it was key England avoided Spain in the quarter-finals.
"I think they have big possibilities of the semi-final or final. Why not win it? With a little bit of luck, not a lot of injuries and players not too tired, they have a chance."
England were drawn against France, Sweden and co-hosts Ukraine in Group D at next summer's European Championship.
"When you go to the Euros you don't find any easy groups", Eriksson said. "It's tough but I will see England go there as the favourites [for the group].
"England should go through to the quarter-finals, I'm quite sure of that."
England have booked a training base in Poland and face trips of between 540 and 930 miles after being drawn in a group that will play its matches in Ukraine.
Eriksson said the situation was "not the best" but "can't be used as an excuse".
"Of course it would be much better to not travel at all. It's good to travel as little as possible," he said.
"But on the other hand, with all the time you spend in the hotel, you have to have a decent hotel to ensure that the staff and the players are happy."
Eriksson, who managed England between 2001 and 2006, also gave his support to Redknapp after Capello leaves the role in the summer.
"I would say Harry Redknapp is a very, very good choice," he said.
"Of course there are others. Harry is English and if the FA wants an English manager I think he's the perfect one."
Eriksson's one-time assistant and his successor as England manager, Steve McClaren also told Sportsweek he believes England should at least reach the knock-out stages of the finals in Ukraine and Poland.
"I'm confident they we will progress first or second in the group," said McClaren.
"They have got to be confident, but you can never be too confident because in the Euros [in 2004] we never had an easy game, every game is difficult. Sweden and Ukraine - the host nation - will both want to do well, and France are emerging again."