Emenike faces match-fixing charges
Last updated on .From the section Football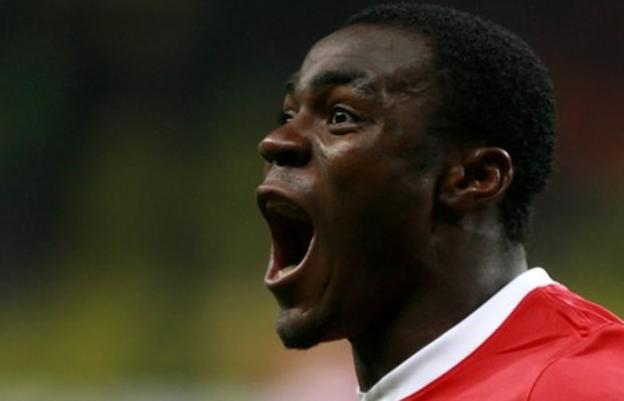 Nigeria's Emmanuel Emenike and several officials of his former club Fenerbahce been formally charged in an alleged match-fixing scandal in Turkey.
When the scandal erupted earlier this year, Emenike was detained and then released without charge in July.
He has since left Turkey to continue his career in Russia.
The Nigerian forward has been charged along with 13 other players over alleged match-fixing attempts.
Fenerbahce president Aziz Yildirim is among thoses formally charged.
Fenerbahce were barred from the Champions League this season because of the match-fixing scandal.
The club faces the threat of being stripped of its domestic title and possible relegation.
Yildirim, who has denied any wrongdoing, could be sentenced to a total of 114 years in prison if convicted on charges of establishing a crime-ring, swindling, and match-fixing.
Yildirim and 30 others, including former Giresunspor president Olgun Peker, remain in jail and it was not clear when they will go on trial in connection with the scandal involving 19 allegedly fixed games last season.
A total of 93 people have been charged. Prosecutors said the investigation was focusing on officials of eight clubs, including two other top clubs - Trabzonspor and Besiktas.
Some details of the 401-page indictment were announced on Saturday, a day after President Abdullah Gul vetoed parliamentary amendments that would have reduced prison terms for match-fixing.
Parliament voted for the changes last week, only eight months after it approved sentences of up to 12 years for anyone convicted of fixing games.
The changes led to criticism that they were designed to save Yildirim, despite a denial from Sports Minister Suat Kilic.
A statement from Gul's office, however, said the president vetoed the new reduced term of three years because it gave "the impression of a special arrangement" to save the suspects.
It was a rare veto of government-backed legislation by the president.
Prosecutor Fikret Secen, meanwhile, said suspects who remain free were barred from attending sports events as spectators.
Among them were players from Galatasaray, Fenerbahce, Bursaspor and Eskisehirspor.
Fenerbahce went unbeaten through the second half of the season and beat Trabzonspor to the title on goal difference.
Officials with Trabzonspor, which replaced Fenerbahce in the Champions League, have also been implicated along with officials or players from several other clubs.
Chris Eaton, security chief of FIFA, said in October that there was mounting evidence that international and club matches are being targeted by gangs who attempt to bribe players and referees.