Aberdeen manager Craig Brown not feeling under pressure
Last updated on .From the section Football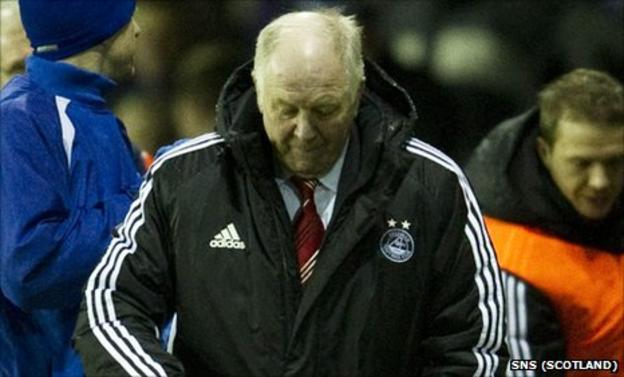 Aberdeen manager Craig Brown insists he does not feel under pressure, despite his side slipping to the bottom of the Scottish Premier League.
"I don't succumb to pressure, I don't feel pressure.
"What I feel is determination and commitment to ensure that we don't put a proud club like Aberdeen in this position," said Brown.
A mix-up between Dons defender Andrew Considine and keeper Jason Brown in the fifth minute gifted Killie forward Gary Harkins an easy opener.
Substitute James Dayton compounded the Dons' misery and took the Ayrshire club into the top half of the table in the 65th minute when he beat the keeper from the edge of the box.
However, manager Brown insisted he did not know if he would be given time to rectify the situation at Pittodrie.
"I don't know," he said. "No one has indicated that, but we are in this position so it is my job to ensure we get out of it.
"I am not a naive optimist. I know we are in a critical situation in terms of points.
"But I am also aware that there are a good number of fixtures to be played yet and these are winnable matches because we are not a bad side, we are not anywhere near as bad as the position indicates.
"A year ago at this time we were in the same position but we have more resources now.
"Obviously it will require improvement in the transfer window.
"Everyone is looking for that and we have been looking at a number of players but there is a player budget."
Brown maintains bad luck has contributed to his side's perilous position and Aberdeen should realistically be further up the table than their current basement position indicates.
"I'm biased, but I think we are better than that," said Brown.
"We don't deserve to be where we are but we are where we are and that's the stark reality of it and we need to make a huge effort to get away from that.
"Every time we make a mistake we are penalised and that is the story of what has been happening of late.
"We had a goalkeeper who was making his league debut who hasn't had a save to make and we lose 2-0.
"Andrew Considine has not made a mistake for the last six games and he was a bit ill overnight. I am not making excuses but he mis-timed the header back and it cost us.
"On other occasions you get away with that.
"I am convinced it will turn and we will get an improvement or a wee break."