Manchester United academy coach Brian McClair backs youngsters
By Alistair Magowan
BBC Sport
Last updated on .From the section Football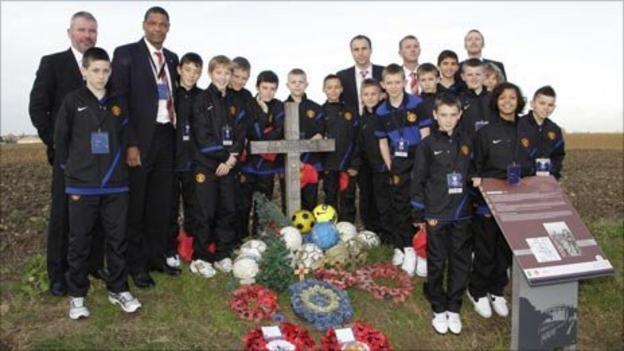 Manchester United Academy director Brian McClair says patience is still the key factor when developing youngsters at the club.
The former striker was not concerned by last week's 2-1 Carling Cup defeat by Crystal Palace, which featured some of United's homegrown talents and prompted United boss Sir Alex Ferguson to apologise to fans for the performance.
But McClair said: "Of course we were disappointed, nothing changes. I've had games when that sort of thing has happened when I played. You just have to accept it and learn from it."
The side that lost the last-eight tie to Palace included players who have graduated from the club's academy including 19-year-old Ezekiel Fryers, Ravel Morrison, 18, and goalkeeper Ben Amos, 21.
And McClair, who was one of Ferguson's first signings at Old Trafford in 1987 and who made 470 appearances for United, told BBC Sport the club were fortunate to have a manager, who was willing to bide his time in developing talent.
"I suppose we are in an advantageous position here where we have a culture that we are prepared to wait," he added.
"We have kids that have become adults within the club like Danny Welbeck. He first came through the doors when he was seven years of age and he's now 21, so that's a 14-year plan and even then he's got a long way to go in terms of establishing himself.
"Then there is Tom Cleverley. At 16 we didn't offer him a job and we told him to stay at school and come in as much as he could. We've had the benefit of being patient about that situation."
McClair said that the overall education of the club's players was important and spoke as a team of United's under-12s took part in, and eventually won, the inaugural Christmas Truce tournament in Ypres, Belgium.
The games against Borussia Dortmund, Lens and Racing Genk, were set up by the Barclays Premier League to help commemorate the story of British and German soldiers putting weapons aside to play football on Christmas Day during World War I.
That day in 1914, opposition forces left the trenches to walk into no-man's land where they exchanged presents before having a kickabout.
United Academy director McClair explained: "We were invited by the Premier League and it has been a fantastic experience for the boys. It was decided that they would choose this age group because they are doing first World War history at school."
As well as competing against the other European teams, the United delegation visited the site of the Christmas Truce just outside Ypres and the Menin Gate Memorial and the Last Post ceremony where they laid a commemorative wreath for the 57,000 British and Commonwealth soldiers who were killed.
And the visit had a personal resonance with one of the boys' great-great grandfathers being killed by a sniper at Ypres in 1915.
When visiting the Christmas Truce site, McClair said the boys paid their respects in their own manner by having an impromptu game of football.
"The boys found a patch of grass near by and just decided to play," he said. "It was old school, jumpers for goalposts, and they sorted themselves into teams and it was probably one of highlights of the trip.
"Unless we had told them to stop they would have stayed there until it got dark."
McClair added: "It was a great experience, on and off the pitch. We swapped various items and present with the other teams and it was great to watch them trade with each other, and it shows that it doesn't matter where you go, football and kids transcend culture and language."