Aberdeen boss to survive Killie curse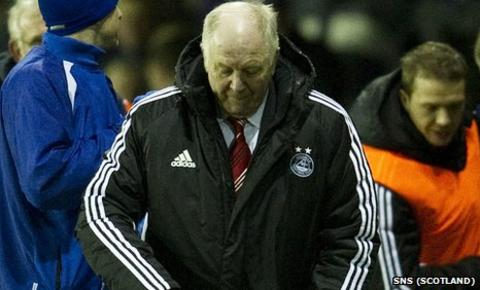 An Aberdeen defeat at Kilmarnock has been the kiss of death for several Dons managers over the years - but it looks like Craig Brown will survive, for now.
Despite losing 2-0 at Rugby Park - a result which has seen Aberdeen slump to the bottom of the Scottish Premier League - the noises coming from Pittodrie suggest the 70-year-old will be given more time to turn things around.
The former Scotland boss replaced Mark McGhee 12 months ago and there has been little sign of progress.
But Brown was defiant after the reverse at Kilmarnock, telling BBC Scotland: "I don't succumb to pressure, I don't feel pressure."
Midfielder Rob Milsom admitted the situation was "depressing" and insisted that only hard graft can get a beleaguered side back up the table.
"A club like Aberdeen should never be at the bottom of the league," he said.
"All we can do is work hard every day and try to put a string of results together.
"We know we have a good squad and a good team, we just need to work hard and get the confidence back and get the results together."
Brown will survive this latest setback but it is startling to note just how many times defeats at Rugby Park have cost Aberdeen managers dear.
And legendary status is no protector when it comes to facing the Killie Grim Reaper!
Back on 4 February 1995, a 3-1 Kilmarnock victory was club icon Willie Miller final act in the dugout.
A 4-0 defeat at Rugby Park on the 5 December 1998 was to end the unhappy reign of Alex Miller.
And just last year, on 27 November, the faltering stewardship of McGhee came totally unstuck in Ayrshire. His final game a 2-0 defeat at Kilmarnock, Conor Sammon and Jamie Hammill with the goals.
That defeat left Aberdeen second bottom. This time it's even worse with the Dons propping up the pile.
"The table doesn't lie," Milsom added. "If you are not playing well and not getting results then you are going to be at the bottom."
Although Brown claimed: "We don't deserve to be where we are but we are where we are and that's the stark reality of it.
"I'm biased, but I think we are better than that."
The scuttlebutt amongst the Dons fans began in earnest last weekend when Dunfermline took a 3-1 lead at East End Park. But Aberdeen scrambled a draw and the knives - on the most part - were put away for another day.
After Saturday's loss at Kilmarnock, Brown told BBC Scotland that he was "embarrassed" by the position that he and Aberdeen now find themselves in. This honesty will strike a chord with fans.
However, his and Milsom's insistence that Aberdeen are really too good to be in the position that they find themselves in needs to be backed up by results, and soon.
Brown remains a popular figure throughout Scottish football and that goodwill counts for something. His history as the last manager to take Scotland to a major finals goes a long way.
And for the moment there's no fixture at Rugby Park on the horizon, which should come as some relief.