Martin O'Neill pledges to bring success to Sunderland
Last updated on .From the section Football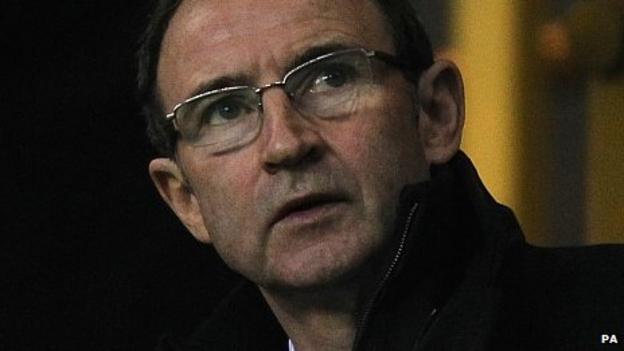 Martin O'Neill has pledged to do his "utmost to bring a bit of success to Sunderland", the team he supported as a boy growing up in Belfast.
"It's a nice feeling to be back in football," O'Neill told SAFC TV.
"I would like it to be a successful period and I'm going to try my best to achieve it. That's what I've come for."
The Black Cats had looked to be heading for their first victory in five matches, but squandered a 1-0 lead at Wolves and missed a penalty to go 2-0 ahead in the second half.
Steven Fletcher then scored twice for the home side to secure a comeback victory for Mick McCarthy's team.
O'Neill, who watched the match from the stand, takes over the reigns on Monday and will be on the bench for Sunday's Premier League match with fellow strugglers Blackburn.
Sunderland are one point off the relegation places in the league table having won only twice this season.
The former Leicester, Celtic and Aston Villa manager, who said "the Premier League has become the Holy Grail of football", explained his boyhood love of the club and spoke of his desire to push the club away from danger in the table.
"You were either Celtic or Rangers in terms of a religious divide [in Belfast], but most of the boys took an English team too," he said.
"Much to the laughing of one or two who took Manchester United and teams like that, I took Sunderland, with [Irish great] Charlie Hurley being there.
"I never regretted it. I had a number of fights with other schoolboys about my choice, but outside that, not a problem."
He added: "You want to get yourself established. We had a great season last season, finishing 10th, and a wee bit of a disappointing start this time, but we hope that with a little bit of luck we can turn things around."