Carmarthen replace manager Tomi Morgan with Neil Smothers
Last updated on .From the section Football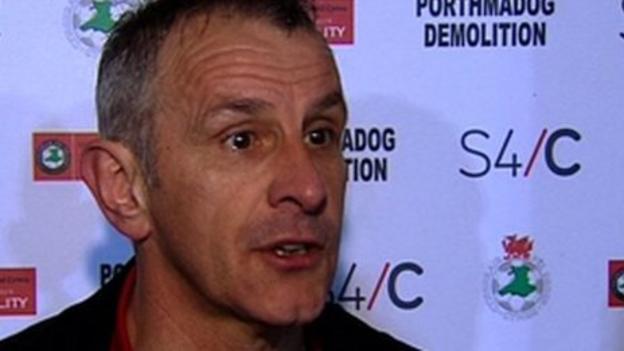 Carmarthen Town have appointed Neil Smothers as player-manager after sacking Tomi Morgan.
Smothers joins from Welsh League side Bridgend Town, who lost to Carmarthen on Friday in the third round of the Welsh Cup.
"Neil is a former player, he knows the club inside out," said Town chairman Gareth Jones.
"He was delighted when we approached him to ask him to return to Carmarthen Town to become player-manager."
Despite the Welsh Cup success on Friday, Carmarthen are three points adrift at the bottom of the Welsh Premier League table.
Morgan, appointed in June 2010, managed just three wins from 18 league games this season, and the 54-year-old said he knew the writing was on the wall.
"I did see it coming to be honest because when you're in a room and all the doors shut on you, there's only the fire escape left," he said.
"I knew I was going to go through there."
Morgan previously spent six seasons at Richmond Park, leading the club to the Welsh Cup final - losing on penalties to Inter Cardiff in 1999 - and into Europe. He was sacked in 2003.
"It's in no form of defence, but when I was there last time my budget was higher than it was this time," he added.
"That sums up really where the club are at the moment."
Jones said it was a difficult decision to sack Morgan, who he praised for saving them from relegation last season.
But he added: "Unfortunately we didn't move on from that positive outcome at the end of last season so we had to make a decision, a very difficult decision to ask him to leave the club.
"It was decided last week that we needed a change at the club and we are proud to announce that Neil Smothers, one of our former players, is re-joining the club as a player-coach.
"Unfortunately he won't be able to play for the club until January [when the transfer window opens] because he has signed for Bridgend Town in the Welsh League."