Off The Bawl - 3 December
Last updated on .From the section Football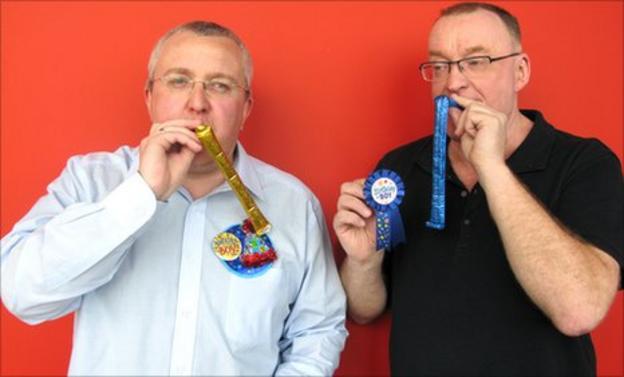 Off The Bawl with Tam Cowan.
Greeeeeetings!!! It's pantomime season in Scotland. Oh yes it is! As Aberdeen fan Ross Handsley told us on Saturday: "I keep shouting 'They're behind you!' at the dozy Dons defence."
We were joined in the studio by River City star Claire Knight and Mark Cox (Tam from Still Game) and, with both guests starring in a Glasgow production of Scrooge this Christmas, panto was one of our talking points.
In the week it was announced Elton John will be playing Falkirk next summer (early predictions suggest he'll win 3-0 with Steven Pressley blaming the ref) we asked what Falkirk means to you.
Sir Elton also inspired out Team of the Week and, as a bonus, we let the listeners pick The Greatest Uncapped Scotland Team Ever.
Here's another selection of the most petty and ill-informed texts and emails on radio...
PANTO PATTER
Karen in Glasgow said: "I was in Peter Pan at the Glasgow Pavilion as a "lost boy" even though I'm a girl. On my first night on stage, my trousers fell down. I nearly died of embarrassment."
Brian the Jambo said: "Many years ago I went to see Rick Wakeman at a Glasgow gig and, just before he played a piece of music he'd written for a panto, he asked the audience if we got pantos up here! The audience just growled at him and, when he asked what was the last panto we'd seen, the entire crowd shouted 'Rick Wakeman!'"
Michael in Donegal said: "A panto joke. What's 200 feet long, 10,000 years old and has no teeth? The front row of a Daniel O'Donnell concert."
Dave in East Kilbride: "Old panto joke. The lights go out in the theatre, so Widow Twanky asks the audience to applaud vigorously - and the lights come back on. Why? Many hands make light work!"
Tino the Jambo said: "I remember seeing Russell Hunter and Una McLean in Aladdin at The King's Theatre in Edinburgh. At one point Una asked the audience if they liked her new facelift, explaining she got it in Leith. She then added that they'll lift anything in Leith!"
WHAT DOES FALKIRK MEAN TO YOU?
Gerry said: "I saw Celtic clinch nine-in-a-row at Falkirk, but the town later opened the Scottish branch of the Child Support Agency - so let's just say I have mixed emotions..."
Chris in Edinburgh said: "The Falkirk fans came up with one of the funniest chants in football. I heard a bunch of them singing 'Big wheel! We've got a f-----g big wheel!' on their way into Easter Road. Brilliant!"
Woody in Glasgow said: "Falkirk means just one thing to me - a sore bum. After cycling there and back along the canal path last year, my bum had taken on a completely new shape and texture."
Charles in Naples said: "Falkirk to me means the most postponed game in Scottish football history. I think the Cup tie against Inverness Thistle in the late 70s might have been called off 36 times."
John in Airdrie said: "When Falkirk won the Scottish Cup, every player in the team had an 'R' in their name."
Anonymous said: "To me, Falkirk simply means happy memories of visiting the nursing college..."
Baz in Dumfries said: "I'll never forget the urine tsunami you had to fight against to use the gents at Brockville."
Kenny in Dunfermline said: "Falkirk - the only team that Maurice Johnstone ever wanted to play for!"
SCOTLAND'S BEST UNCAPPED TEAM?
1/ Hamish McAlpine
2/ Joe Wark
3/ John Brown
4/ Bobby Cox
5/ Doug Smith
6/ Chic Charnley
7/ Kevin McAllister
8/ Henry Hall
9/ Frank McDougall
10/ Gordon Wallace
11/ Andy Ritchie
(There was also an honourable mention for Gordon Ramsay who surely deserved a Scotland cap after all his fine performances for Rangers...)
TEAM OF THE WEEK
The Elton John XI
(aka Don't Go Breaking My Heart Of Midlothian)
Manager: Benny Rooney And the Jets
1/ Edwin Van Der Sarry Seems To Be The Hardest Word
2/ Don't Let The Sun Go Down On Mio Krivokapic
3/ I'm Still (Pat) Stanton
4/ Tommy Ringball Wizard
5/ I Guess That's Why They Call Him John Hughes
6/ Neil McCann You Feel The Love Tonight?
7/ Healing Hans Gillhaus
8/ Reg Dwight Yorke
9/ Goodbye Jelavic Road
10/ Dean Candle In The Windass
11/ Ian Ure Song
AND FINALLY...
As the festive season fast approaches, we received one email that said: "I love the Christmas party season as my work colleagues all bring their wives." That was sent in by a Mr John Terry...
PS. The song that played us out? As a tribute to Beram Kayal - the midfielder who made the Celtic fans go quackers during the Atletico Madrid game - we finished with the 1976 one hit wonder Disco Duck.
To join in the fun on this Saturday's show, call 0500 929500, text 80295 or email offtheball@bbc.co.uk
Listen to the most recent Off the Ball programmes.
Download the latest Off the Ball podcast.