Matt Bloomfield column: The Rhodes to the top

By Matt Bloomfield
Wycombe Wanderers midfielder
Last updated on .From the section Football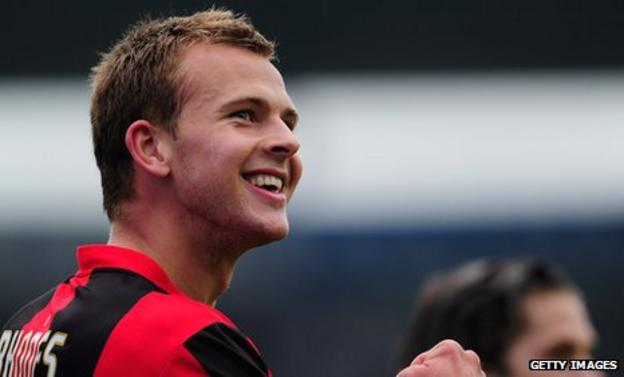 League football took a break this weekend to make way for the second round of the FA Cup.
Unfortunately, due to our defeat in the first round away at Fleetwood Town we found ourselves without a game, so with a break in the league proceedings, it's a good time to take stock of what has happened so far.
The story of the season has been Huddersfield's unbeaten run, which finally came to an end at Charlton. Forty-three games without defeat is an unbelievable achievement and really tells you an awful amount about the players and management at Huddersfield.
We went 21 games unbeaten at the start of the 2005/2006 season and I thought that was a fantastic achievement. We were certainly proud of it and didn't want to give it up. We went into games believing that we wouldn't get beaten and somehow we would find a result even if we didn't play very well.
However, I do believe that maybe subconsciously, you start to think about making sure that you don't lose, rather than going all out to win. I'm not suggesting that this happened at Huddersfield, but I don't necessarily think it's a bad thing that they have lost their unbeaten record.
They can put that to bed now and concentrate on their main aim, which is getting promoted.
They owe a lot of their unbeaten record to the goals of Jordan Rhodes, who was a kid coming through the system at Ipswich when I left the club as a young pro.
Jordan has always scored bucket loads of goals and will no doubt go on to score goals at a higher level. As an Ipswich fan, I was disappointed when they sold him to Huddersfield and I know lots of Ipswich supporters who felt the same.
Jordan's dad Andy is goalkeeping coach at Sheffield Wednesday, and with their teams currently sitting second and third in the league, the family rivalry must be hotting up in the Rhodes household!
It's been a mixed opening to the season for the four clubs promoted from League Two last season. Whilst ourselves and Chesterfield have found the going a little tough in our new league, Stevenage and Bury are not far off the play-off places and have both produced some great results already this season.
It's hard to pinpoint exactly why two teams have found it harder than the other two. But both Chesterfield and ourselves know that we need to start turning things around soon. We meet at Adams Park on Saturday and both teams will be looking at the game as an extremely important three points.
It's true that you learn more about people in times of adversity. We have probably learned a lot about ourselves as well as those around us recently.
It's how you respond to the tough times that define you both as a person, and as a player.