Avram Grant says Africa Cup of Nations must switch to summer
Last updated on .From the section Football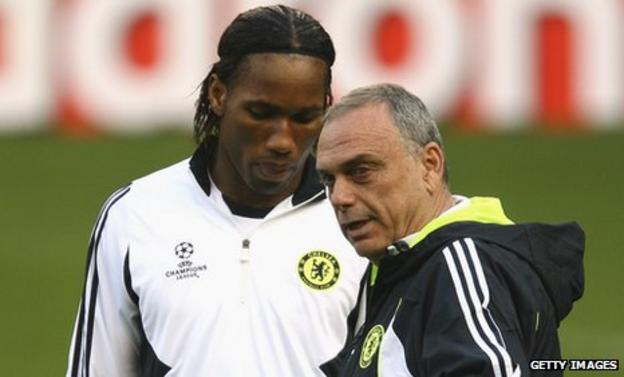 The Africa Cup of Nations should be moved from January to the summer, according to former Chelsea and Portsmouth manager Avram Grant.
The Israeli managed several African players in the Premier League and was frustrated by losing them in January.
Grant said: "They need to do it like the World Cup, like the European Championship, in the summer.
"I think clubs are thinking twice about signing African players, even though nobody will admit this."
He added: "It was very difficult - they're not going straight to the first game. They're going two weeks before.
"If they're coming to the final, after this, it's between 10 days to two weeks to recover. They're coming from very warm weather to very cold weather at this time."
The problem troubled Grant while he was in charge of both Chelsea and Portsmouth. The 56-year-old was in charge at Chelsea in 2007-08 and then at Portsmouth in 2009-10.
He explained: "At Chelsea, we missed Didier Drogba, Salomon Kalou, Jon Obi Mikel, Michael Essien.
"Small clubs have more problems - they don't have money to have a big squad with a lot of players like Chelsea.
"If you need to sign for a small team a superstar, you miss a superstar for sometimes two months. I know that we missed Kevin Boateng, a very important player in Milan, who was at Portsmouth.
"If you have a star and you depend on him, it's not good. I'm sure the clubs are thinking about this when they go to sign a player."
Grant's sentiments were supported by former Cameroon striker Patrick Mboma, who played in the English league with Sunderland in 2002.
Mboma said: "To me, the major problem is the programming of the Africa Cup of Nations. OK, if you're playing in Japan or Russia, you have no problem.
"But in France, in England, in Spain - all these leagues are playing January. In England, you're playing at Christmas time. You have no break. The problem is when the African Nations Cup is."
He also agrees that it is putting off European clubs from signing African talent, saying: "For sure, they're saying that.
"With the likes of Samuel Eto'o, Drogba, Essien, they can say 'OK, they're talented enough to bring me points. I will understand they can be out for a month.'
"But, when you have a less talented player, you have to pay a player that will not bring you this quality for the rest of the year. Then you say 'why should I sign an African player?'
"If you have to take care of a full squad of 30 players, you have among them 18 who are really efficient. When six of them are African, you understand it's a big risk."