Arsenal honour Thierry Henry, Tony Adams & Herbert Chapman
Last updated on .From the section Football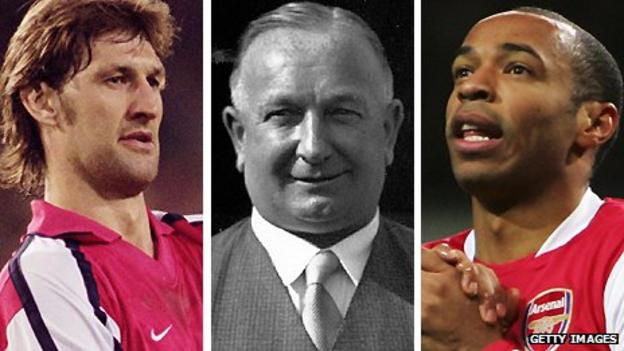 Statues honouring three of the finest names in Arsenal history are to be unveiled as part of the club's 125th anniversary celebrations.
Herbert Chapman, who led the Gunners to their first league titles in 1931 and 1933, will be jointly recognised with former skipper Tony Adams and record goalscorer Thierry Henry.
Centre-back Adams captained Arsenal to four league titles, while Henry scored 226 times for the north London side.
The statues will be unveiled on Friday.
They will be situated in prominent positions outside Emirates Stadium.
Chapman, who had won an FA Cup and two league titles at Huddersfield, was appointed Arsenal manager in 1925 and, within two years, had taken the Gunners to their first FA Cup final.
They made history in that game - but not for the best of reasons for them as they lost to Cardiff to result in the FA Cup residing in Wales for the first and only time.
But he soon made up for those disappointments by winning the championship in both 1930-1 and 1932-3.
His achievements may have grown further but a severe cold picked up in early 1934 turned into pneumonia and he never recovered and died soon afterwards at the age of 55.
Adams joined Arsenal as a 17-year-old in 1984 and went on to make 674 appearances by the time he retired in 2002,with 49 goals.
His partnerships at the heart of the Arsenal defence with Steve Bould and Martin Keown were legendary and, under George Graham, reinforced the north London side's reputation for grinding out narrow victories. "One-nil to the Arsenal", sung to the tune of the Pet Shop Boys' "Go West", originally recorded by The Village People in 1979, was frequently heard coming from the old North Bank at Highbury.
Adams told BBC Sport he is unable to make the unveiling.
Henry was an integral part of Arsene Wenger's "Invincibles" team which were unbeaten in the league during their title-winning 2003-4 season.
Signed from Juventus as a 21-year-old in the summer of 1999, Henry scored 226 goals in 337 starts to eclipse other Arsenal legends Ian Wright (185 from 279 starts) and Cliff Bastin (178 in 396 games).
The Frenchman reached third place on the list of Premier League goalscorers, behind Alan Shearer (260) and Andrew Cole (187) before moving to Barcelona for £16.1m in June 2007.