English clubs disadvantaged by Fair Play rules, Premier League says
By John Sinnott
BBC Sport
Last updated on .From the section Football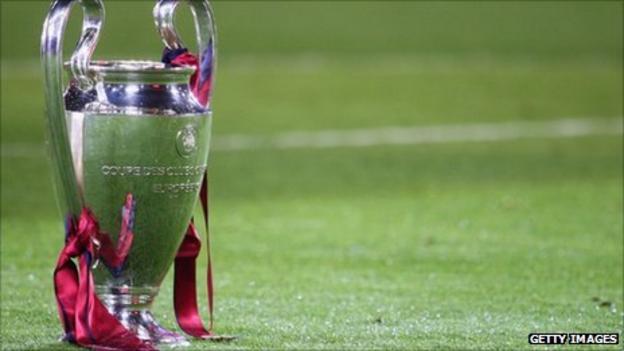 The Premier League has said Financial Fair Play regulations relating to third-party ownership of players could unfairly hamper English clubs.
Some European clubs rely on third-party deals to buy players to reduce costs.
But the Premier League, which bars such deals, has asked Uefa to look at the rules saying they could mean that: "English clubs in European competition [are] at a disadvantage.
"Having no prohibition on [these deals] seems at odds with FFPR principles."
The top-flight regulator believes that the current situation is unfair, especially if "transparent owner equity investment" - effectively money pumped into a club by a wealthy owner such as Manchester City's Sheikh Mansour - is restricted.
With third-party player investment prohibited in the Premier League yet allowed under FFPR, the League has suggested the rules could hamper its members.
The practice of third-party ownership is prevalent in South America and parts of Europe. Essentially, companies buy a percentage of a player in the hope that, if he becomes a star in the future, that percentage can be sold for a large profit.
Some clubs have even started selling percentages of players that they had previously owned outright.
But since the controversy that surrounded Carlos Tevez and Javier Mascherano joining West Ham on third-party deals in 2006, the Premier League has banned the practice to protect "the integrity of competition".
"It may well be for Uefa to make a decision on whether third-party ownership revenue and cost benefits afforded to non-Premier League clubs should be excluded at least for FFPR compliance," lawyer Daniel Geey of Field Fisher Waterhouse told BBC Sport.
"The issue for Premier League clubs wanting to play in Uefa competitions is that they could be at a disadvantage in trying to adhere to FFPR.
"This is because non-Premier League clubs may have lower transfer amortisation charges [the process of accounting for an asset's cost over a number of years] as they can spread their transfer fee risk among third-party owners."
In October, leading sports lawyer Jean-Louis Dupont told the BBC that the Premier League's third-party ownership rules were "not legitimate".
Dupont suggested a legal challenge to the rule would have a "very, very good chance" of winning.
FFPR comes into force from the beginning of the 2013-14 season and requires clubs to break even, losing no more than £38m in total over the next three seasons.
Clubs that do not meet the FFPR standards but wish to play in Europe may potentially be denied a licence and not be allowed to take part in the Champions League or Europa League.
It is also understood that the Premier League is lobbying Uefa to consider whether the central good cause payments the top flight makes - from broadcast and commercial income that would otherwise be given to each of our clubs - can be included in FFPR calculations.