Burundi slam Cecafa 'changes'
By Emmanuel Muga
BBC Sport, Dar es Salaam
Last updated on .From the section Football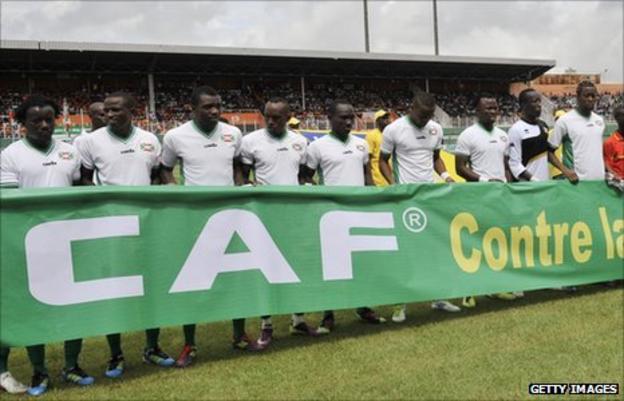 On the eve of the tournament semi-finals, the organisation of the ongoing Cecafa Cup in Tanzania has been severely criticised.
Burundi have complained about the shock change of fixtures on the eve of the quarter-finals.
The side were beaten by Sudan on Monday, when they had been preparing to face Zimbabwe just hours earlier.
In Thursday's semi-finals, Sudan take on Rwanda while hosts - and defending champions - Tanzania face Uganda.
Burundi, who lost 2-0 against Sudan, felt disadvantaged after learning at short notice that their opponents would be the 2012 Africa Cup of Nations finalists rather than Zimbabwe.
"We were not supposed to play Sudan according to the quarter-final fixtures but we were surprised the game was changed without giving us a notice," lamented Burundi coach Adel Amrouche.
"This is totally against fair play, and I sincerely feel it diluted the competitiveness of the tournament."
Journalists have also been complaining about this change of fixtures, which led to inaccurate reporting.
Reacting to Amrouche's comments, Cecafa general secretary Nicolas Musonye dismissed him when saying: "He says he was supposed to play Zimbabwe, [but] would they even have managed to beat Zimbabwe?" Musonye asked BBC Sport.
Musonye also denied changing the fixtures, saying his organisation sent out the quarter-final line-up of the East and Central African tournament long before it began.
Nonetheless, both coaches and journalists have contested this - with the initial fixtures showing fundamental changes to those sent out in a press release after a meeting of the Cecafa committee.
"During its meeting on Sunday afternoon, the organizing committee disclosed the names of the 8 countries and they will meet as follows: Burundi vs Sudan, Rwanda Vs Zanzibar, Zimbabwe Vs Uganda and Tanzania Vs Malawi," the statement said.
Just hours earlier, the line-up had had a very different feel.
Sudan had been set to face Uganda, Rwanda were taking on Zanzibar while Tanzania were playing Malawi.