I've helped 'a couple' of Celtic players battle depression - Neil Lennon
Last updated on .From the section Football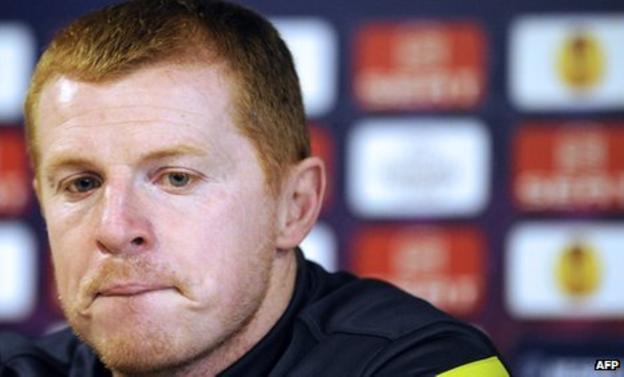 Celtic manager Neil Lennon says he has helped "a couple of younger players at our club" deal with depression.
He said he had benefited from comparing his own fight against depression to overcoming physical injuries.
And Lennon urged people with depression not to "hide away" from the condition, but to confide in "loved ones who want to help you get better quickly".
The former Northern Ireland and Leicester midfielder, 40, spoke of his frustration that in some circles "there's always been a stigma with depression".
"I remember Stan Collymore [whose problems first came to light in 1999 when he was playing for Aston Villa] was scoffed at," he said. "It's only when you go through something like that you realise what people do go through.
"It's not a sign of laziness, or nothing to be ashamed of, it's a very difficult situation to deal with."
Lennon added: "People say 'go on holiday', 'go and have a rest' but you take [the depression] with you. The best thing I've found over the years to cope with it is to talk about it, get professional help and if there is a tablet you have to take that suits you, then do that.
"It's a fantastic feeling when you come out the other side of it and it's a place you don't want to go to again.
"I would implore anybody out there, footballers or from any other walk of life, if you are struggling or are feeling depressed - it's not a question of feeling down, this thing stays with you 24/7, the low mood, the anxiety, the stress - just go and speak to somebody about it, whether it be a loved one or a professional person, and it halves the problem for you."
Keeping your feelings to yourself does not help, he said, but is very common in football because of a fear of appearing weak in front of team-mates.
He explained: "It's a very macho environment and you don't want to give anything away. You have a group of highly charged men who might take the mickey out of you."
But, he explained, the reality is "the exact opposite - some of the strongest, most intelligent, driven individuals in the history of the world have suffered from depression. It usually hits people who are pretty driven. It was part of my make-up, whether it is genetic or not, and it's something I have come to terms with and something I've been able to deal with a lot better since I've been able to talk about it.
"When I got diagnosed with it and I started telling a few close friends about it they actually came to me and said 'Look, I kept this from you but I was depressed as well'.
"It's such a common thing - people don't want to talk about it. You feel you don't want to burden other people with your problems. Particularly with a loved one, you can do that because they want you to get better as quickly as possible.
"Don't hide away from it - please don't hide away from it. Don't go and lock yourself in a room because that won't help.
"And certainly try to avoid alcohol as well. When I didn't realise what I was going through, and I couldn't sleep at night, I used to have just a couple of beers to try to relax me. And in the morning I felt even worse.
"I was lucky to speak to a club doctor and he put it in simple terms. 'Look,' he said, 'you are a footballer, you got depression. Take it as an injury, you're not 100%, but you know in four or five weeks' time you'll be out the other side of it. Take it like you've got a hamstring strain or something like that and you'll know you'll be 100% once you start feeling better'.
"That's probably the best advice I've ever had."
You can hear Neil Lennon's full interview with BBC Sport's Roddy Forsyth on 5 live Sport from 2130 GMT on Thursday