Rangers manager furious at Sone Aluko simulation ban
Last updated on .From the section Football
Rangers manager Ally McCoist has reacted angrily to a Scottish Football Association tribunal's decision to ban winger Sone Aluko for simulation.
The club appealed unsuccessfully against a two-match ban given to Aluko for diving to win a penalty in Rangers' 2-1 win against Dunfermline.
"I'm absolutely shocked and extremely angry at the fact this committee has upheld the decision," said McCoist.
"What they've effectively done is they have said the player has cheated."
On Thursday, an SFA fast-track tribunal decided that Aluko had dived, despite Rangers arguing that Dunfermline's Martin Hardie had made sufficient contact with the winger in Saturday's match at Ibrox.
Aluko will now miss Rangers' next two league matches away to Hibernian and at home to Inverness Caledonian Thistle.
Referee Steve Conroy pointed to the penalty spot after the incident in the Dunfermlien penalty area in the 28th minute, with Rangers already leading 1-0.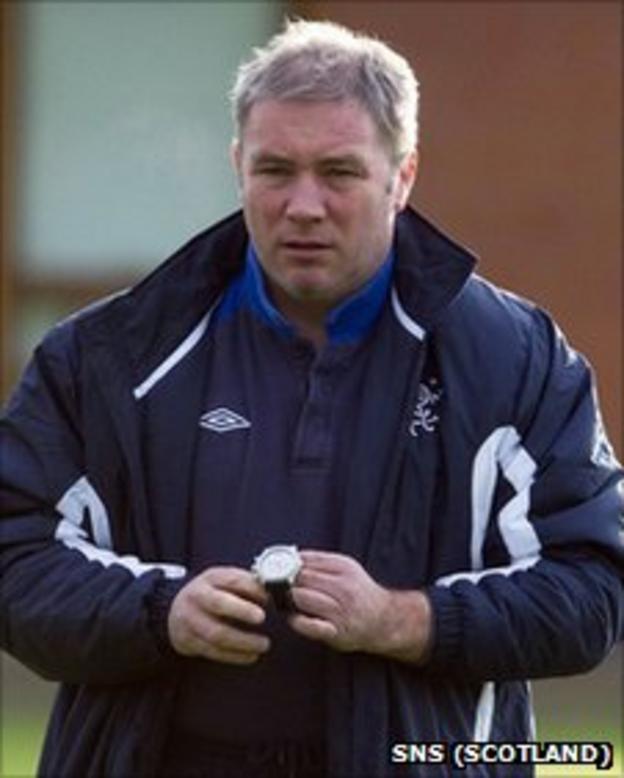 Nikica Jelavic netted the subsequent spot-kick and Rangers went on to win the match 2-1.
Speaking after the game, McCoist insisted that Aluko was adamant he had been fouled when Hardie challenged him.
And the player said: "I felt there was contact and then I fell over.
"I'm not one who normally dives. I thought it was a penalty and obviously the ref did as well."
On Thursday, the Rangers boss said he was unhappy with former referee Jim McCluskey, who chaired the three-man panel that heard the tribunal.
"The meeting was chaired by a former referee and I have to say his decision making hasn't improved any since he stopped refereeing," said McCoist.
"The three gentlemen on the panel have effectively called my player a cheat and a liar, neither of which he is.
"It's an absolutely incredible decision given that the referee is literally five yards from the incident.
"He has a better view than anybody in the stadium and they have gone, not only against the referee, but the player as well.
"The thing that stuns me is that the panel agreed there was contact so for them to uphold the decision and go against their own referee, who had a particularly good game, is ridiculous."
The same punishment was given to Hibernian striker Garry O'Connor in October, after he was accused of having dived to win a penalty in the 3-2 win over St Johnstone.
O'Connor chose to contest the decision, which was referred to a fast-track tribunal, who upheld the referee's original decision and McCoist said the rules were not being applied fairly or evenly.
Earlir this season, Steven Naismith was retrospectively banned for elbowing Austin McCann in a 4-0 win against Dunfermline.
"It seems to me that there are rules for some and rules for others," said McCoist.
"There is a complete lack of continuity and consistency, you have to look at the previous incident regarding Garry O'Connor, and we do not even know if it was the same individuals on the panel.
"We took it on the chin with Steven Naismith at Dunfermline but I can also remember off the top of my head someone having a fly kick at our goalkeeper last season.
"I can also remember a goalkeeper having a go at Kyle Lafferty this season and a Motherwell player getting elbowed this season.
"Nothing has been done about any of them and O'Connor has obviously been found not guilty.
"The other thing I would like to point out is the compliance officer is a thoroughly nice man but he is a lawyer, he comes from a legal background not a football one.
"So effectively we've got someone who hasn't played professional football telling me my player is a cheat.
"It's staggering, absolutely staggering and to say I'm angry would be a massive understatement."
Following Saturday's match, Dunfermline boss Jim McIntyre was critical of referee Conroy during his post-match interview and is also in trouble with the SFA, with a hearing set for 22 December to examine his remarks.