Goals will come for Swansea City, says Scott Sinclair
Last updated on .From the section Football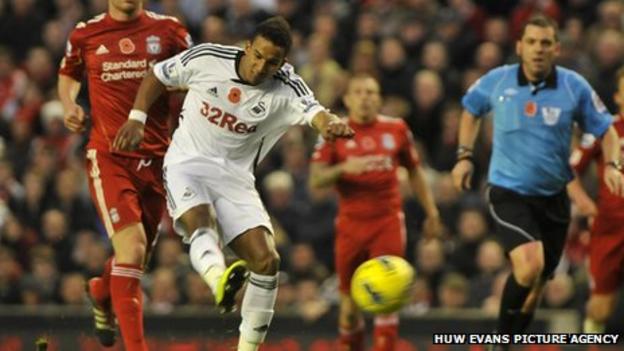 Swansea City midfielder Scott Sinclair has pledged his goal drought for the Premier League club will end soon.
Sinclair has scored three penalties against West Brom, Stoke and Bolton this season but has yet to claim a goal in open play.
"I have been disappointed about not scoring in open play. As soon as I get one then I'll hopefully be on a run," said Sinclair.
"But I'm not going to be too disappointed and disheartened."
Sinclair, who scored 26 goals in 49 league and play-off appearances last season, added: "It's only a matter of time before I do go on that run.
"It's one of those things where you have to be vital in front of goal. The last couple of times I have been in the right areas but I haven't been as vital as I normally am."
Sinclair admits that he should have been much more clinical with a chance in front of goal in the Swans' 1-0 home defeat by Manchester United in November.
And he says that missed chance sums up the difference between the Premier League and the Championship.
"I should have put it away," he said.
"It was one of those things when it comes too quickly and you don't react quickly enough and don't get [a good] connection with the ball.
"That's what sets aside the Premier League from the Championship. In the Championship you might have four or five chances but in the Premier League you have one or two and you have to put one away.
"It's my first time playing regularly in the Premier League so it is new to me, but when I do find my feet and start scoring then it will be great for me."
The Swans are hoping to bounce back at home to Fulham on Saturday after going down 4-2 at Blackburn Rovers last week.
"We did play some good football in the first half and we created chances, but it was one of those games when everyone was very disappointed coming off with a defeat," Sinclair said.
"But now we have to kick on. We have got Fulham at the weekend and hopefully we can get a result at home.
"We are creating chances, that's the main thing and we are scoring a couple of goals. We've just got to get the three points.
"It's a great challenge for us to be in it [the Premier League] and obviously we want to be in it for next year, so every single week is vital for us."
Swansea City have striker Danny Graham and defender Stephen Caulker back from injury against Fulham, but will be without midfielder Joe Allen who is suspended after being sent off at Blackburn.