Bwalya strikes confident note
By Farayi Mungazi
BBC Sport
Last updated on .From the section Football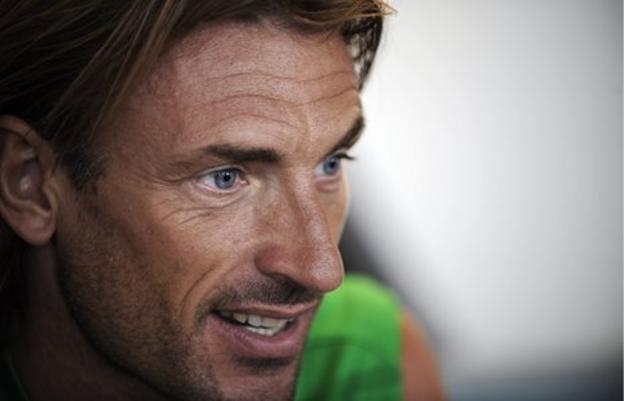 Zambia's preparations for the African Cup of Nations will not be derailed by a row over the national coach's salary, according to the head of the country's football association.
Shamenda alarmed the country's football fraternity on Wednesday when he told parliament that the government has no intention of paying Herve Renard's salary.
The Frenchman was reappointed in October to replace Italian Dario Bonetti who was sacked just days after qualifying the team for the 2012 finals.
But Zambia FA president Bwalya struck an altogether more confident note, telling BBC Sport that a solution will be found.
"The minister knows that the hiring of Herve Renard was a decision of the executive committe and the process was thorough," Bwalya said.
"It appears though that the right kind of information hasn't reached him.
"If the minister has an issue with the football association in future, he should talk to us directly so that we resolve things amicably."
The Zambian legend said he is not concerned by the sports minister's declaration that the governenment will not pay Renard's salary.
"I haven't received any notification from the minister regarding the report he tabled in parliament, but we have a lot of well-wishers in Zambia.
"Everybody in Zambia knows where the problem is; there are people around the minister who give him the wrong information to push their own agendas.
"I have no doubts that we're doing is in the best interest of Zambian football, and I'll continue to serve football to the best of my ability."
Bwalya rejected suggestions that the row with the minister will derail Zambia's preparations for the Nations Cup in Gabon and Equatorial Guinea.
"I know that Renard is a very passionate man, he's experienced and very ambitious.
"He will continue to work the boys to improve on what they did in Angola when they reach the quarter-finals."