Celtic's James Forrest keen on Olympics Team GB
Last updated on .From the section Football
Celtic's James Forrest has echoed Rangers rival Steven Naismith's interest in playing for a Team GB at the London Olympics.
"Any Scottish player who did get picked would have to consider it; it would be a great honour," said the Scotland cap.
Rangers forward Naismith also says he would play for Team GB at the London Olympics if selected.
The Scottish FA would prefer Scots not to be involved for fear it would affect their football autonomy in the future.
However, 20-year-old Forrest would be excited to get the call to join Team GB manager Stuart Pearce's 2012 squad.
"It looks really promising and it looks like a good tournament," said the winger.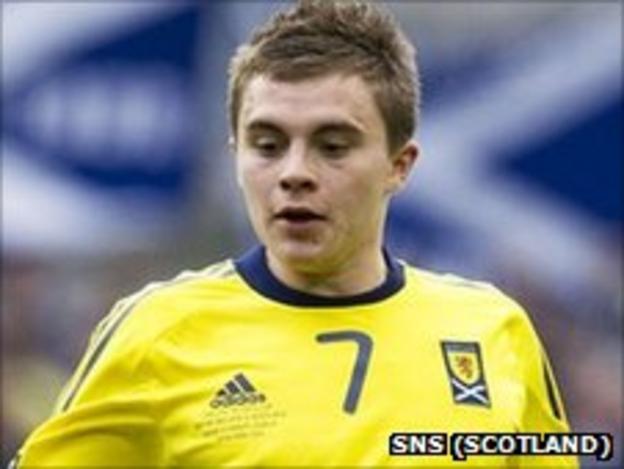 "It's obviously down to who gets picked but it would be a really good thing to happen.
"A lot of good players have been mentioned, who could be picked, so to be mentioned would be really good."
His comments come a day after Rangers winger Naismith, 25, expressed his own interest in the Games football team.
Three over-23 players can be selected for the team and the Rangers forward believes it would be good for the development of young, fringe players.
"I think the younger players need to consider it a lot more," he told his club website.
"We should be available for it, not for the political side of it but more for the fact we can show we've got talent."
The Rangers striker will miss the rest of the season after suffering damage to the anterior cruciate ligament in his right knee against Aberdeen in November.
"To play in these kinds of tournaments and to be in the starting line-up for Team GB would be great and for that reason I'd definitely make myself available," he said.
"It's more of an event for the younger boys, though. It would be a massive stage for them and especially with the Olympics taking place so close to home.
"You'd be crazy not to consider it. Everybody has got their own views but for me, personally, I'd be available."