Former ref Kenny Clark hopes Aluko case curbs diving
By Alasdair Lamont
BBC Scotland
Last updated on .From the section Football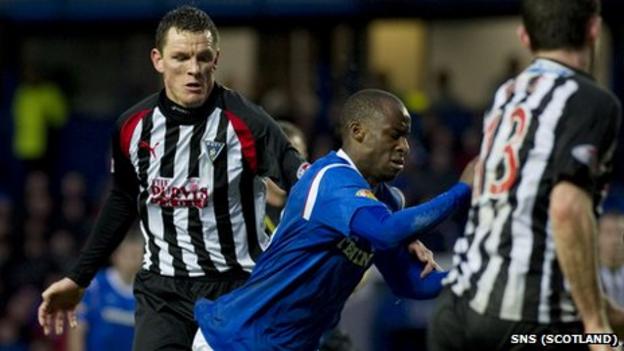 Former Category One referee Kenny Clark believes Sone Aluko's two-match ban for simulation can help deter others from diving.
The Rangers winger was punished by the SFA's fast track tribunal for duping referee Steve Conroy, who awarded a penalty against Dunfermline's Martin Hardie.
"I think the likes of this incident will certainly start the drums beating to make people wary of it (diving)," said Clark.
"I would imagine coaches will also say to their players, 'we can't afford to have you suspended as we go into the second half of the season, so let's be more careful about it, let's clean up our act'."
Rangers had hoped to persuade the tribunal Aluko was justified in going down, with picture evidence showing the Dunfermline player's hand on the Nigerian's arm.
But Clark stresses that contact does not necessarily equal a foul.
"It would need to be that the referee formed the view the player had been pulled or pushed or touched in such a way that denied him the opportunity to continue with his run or, in this instance, caused him to fall over," he added.
"If there was any contact on Aluko, it was so slight that if he'd been standing in a pub, he wouldn't have spilled his pint, far less fallen over. Contact of that sort does not cause your legs to buckle."
Rangers manager Ally McCoist cited the case of Hibernian's Garry O'Connor, who was cleared of simulation, as evidence of one rule for some and another rule for others.
But Clark, who believes the decision to clear O'Connor was wrong, insists that logic is flawed.
"It's a bit like the person who says they shouldn't get done for speeding because someone else didn't get caught speeding," he added.
"The panel is not necessarily made up of the same people. In fact I'm pretty sure it wouldn't have been the same people.
"Like any of these things, it's a matter for people's judgement. I think the panel got it wrong last time and I think they got it right this time.
"If Rangers supporters feel aggrieved about that, I think they've got a cheek because they got a penalty and a goal they shouldn't have had, so they should be feeling pretty lucky."
Unsurprisingly, given his background, Clark feels the criticism in these cases should fall upon the player rather than the referee.
"If the player doesn't try to cheat, the referee doesn't have a decision to make," he added.
"People continually say to me referees need help from video evidence and I say the biggest help referees could get is greater honesty from players and coaches."
But he conceded the referee in this case - Steve Conroy, who was also the official who awarded O'Connor a penalty - may also be penalised.
"I would expect he will have suffered to the extent that the match observer is likely to have marked him down, categorising this as a major error," Clark added.
"Beyond that, it's really a matter for the SFA's judgement whether, taking into account his other marks in other matches, he doesn't get another SPL match for a while."