Michel Platini criticises Sir Alex Ferguson's Europa League comments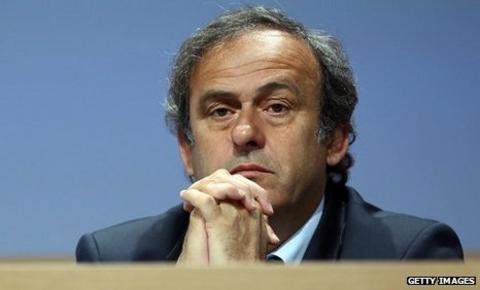 Uefa president Michel Platini has criticised Sir Alex Ferguson after the Manchester United boss appeared to belittle the Europa League.
United will play in the tournament after crashing out of the Champions League following a 2-1 defeat to Basel.
After the match, Ferguson said: "That [playing in the Europa League] is our penalty for not qualifying."
Platini responded: "The world does not revolve around England. The Europa League is a brilliant competition."
Ferguson, who led United to the Champions League final in 2008, 2009 and 2011, is worried about the impact of having to play on Thursday nights in the Europa League.
After the Basel loss, he said: "It does mean Thursday-Sunday matches. That has to be dealt with."
But Platini countered: "I like England a lot, its football is fantastic, its supporters are wonderful. But you shouldn't criticise the Europa League just because you've played in three Champions League finals.
"I know Mr Ferguson would have preferred to be in the Champions League but so would many clubs who don't have that possibility."
Ferguson later clarified his remarks, saying the Europa League is "a strong competition" and one which he wants to win with United this season.
It is only the third time in 17 years that United have exited Europe's elite club competition at this stage.
They also became the first team to fall at the group stage the season after reaching the final.
United drew with Benfica and Basel in the opening two Champions League encounters before beating Otelul Galati twice.
But another draw with Benfica coupled with defeat in Switzerland, which was their first in nine European games, sealed their fate.