Man Utd's European blow - Alan Hansen

By Alan Hansen
BBC Sport football expert
Last updated on .From the section Football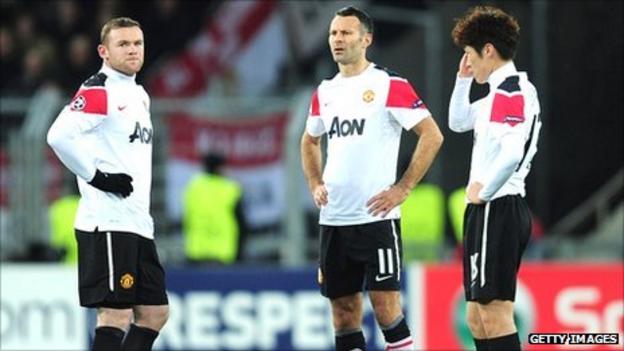 Manchester United's failure to qualify for the Champions League knockout phase was catastrophic for manager Sir Alex Ferguson and everyone at Old Trafford.
It is a massive blow for a club that has reached three of the last four finals.
The failure to get the point they needed against FC Basel came as a real shock to the system because of what they have achieved over the years and their track record of producing a performance, or a moment of magic, when they are in any sort of trouble.
United's elimination was made even worse as it came from finishing third in a very weak group that looked little more than a formality when the draw put them up against Benfica, Basel and Romanians Otelul Galati. Results, however, were poor and a heavy price has been paid.
Manchester City were also hurt after they went out, but the pain they are suffering will not be as acute as their neighbours'.
City were in a much harder group with Bayern Munich, Napoli and Villarreal, and their first season in the Champions League would have been totally different to anything the team had ever experienced.
Manager Roberto Mancini admitted they were nervous before their first game against Napoli at the Etihad, a sign of the competition's unique pressures.
I actually feel they have to continue their development by winning the Premier League title before thinking about winning European football's top prize.
I would never say going out of the Champions League is good news, but it is not all bad and may ultimately help City's attempt to win the title.
In contrast, there was no good news for United, although they can take solace in Ferguson's proven ability to handle such setbacks and rebuild from them.
It left questions about United's goalkeeper David de Gea, a defence that has looked vulnerable all season and a midfield now without the presence of that magnificent player Paul Scholes.
And there will be more suffering to come when the knockout games come around and United can only watch Arsenal and Chelsea playing against Europe's elite while they compete in the Europa League.
I do not think people realise how important getting to the knockout stage is. When you get to March and April in a long hard season the thought of playing these high-profile games is sensational for supporters, players and manager.
The big Champions League nights at a packed Old Trafford have been magical for the club, they have lived off them, and it will hurt not to be involved. The Europa League will not replace those nights.
Defeat did not just come at a heavy price in a Champions League context either.
To add injury to the insult of elimination, captain Nemanja Vidic, someone I regard as right up with the best defenders in Europe in recent years, will now miss the rest of the season with the knee injury he suffered in Basel.
This is a desperate problem for Ferguson and United because without him they have looked very frail.
It is no surprise that since Vidic came back following the 6-1 defeat by Manchester City, United have looked a lot tighter defensively and reeled off a succession of clean sheets until Wednesday.
You only had to watch him in the win against Aston Villa to see what he gives United and what they will miss when he is not there. Anything that came into the box was Vidic's, headed and cleared away - he was absolutely magnificent.
Ferguson will now need to deal with his absence. Rio Ferdinand looks like he needs help at the moment and while Phil Jones will eventually be a great defender, he is still relatively inexperienced. Chris Smalling and Jonny Evans can also play in there, but there is no doubt Vidic is United's best centre-back by a mile.
This is one of the many questions being asked about United's team, and Ferguson's transfer policy, in the aftermath of the loss in Switzerland.
United have had defensive problems all season. They have been conceding more chances in this campaign than in any other, even when they were playing badly in the past, and Basel were able to take advantage.
It is an old argument of mine but defensive play is all about understanding and positioning. This is where United have fallen down.
If you give me a choice between four good defenders who have played together 150 times and four great defenders who have never played together, give me the good ones every time. Understanding is that important.
David de Gea had come through a sticky patch and everyone has started saying what a top-class keeper he is, but there are question marks over him again after he made an expensive mistake against Basel.
It is important for your goalkeeper to deliver in these crucial matches and United keepers of previous generations, such as Peter Schmeichel and more recently Edwin van der Sar, used to make the saves that kept them in the competition or won vital matches for them.
De Gea is young and may well eventually become the keeper sound judges say he will become, but doubts remain.
Fingers have also been pointed at Ferguson for his failure to buy a world-class midfield player to replace the retired Scholes, but certain questions should always accompany that query: who is he? Where is he? Is he available? Is he affordable?
I am sure Ferguson would have loved to sign Luka Modric but even Chelsea's riches couldn't get him out of Tottenham, while no deal was done for Inter Milan's Wesley Sneijder either.
United wanted Samir Nasri when he decided to leave Arsenal, but were dealing with the new reality when Manchester City simply outmuscled them financially.
Scholes' retirement left a huge gap and you will never find another Scholes. The same applied when former captain Roy Keane left Old Trafford. You cannot replace these players because they come from a unique mould - what the manager will try to do is assemble a midfield unit that will compensate for their absence.
So yes, I am sure Ferguson would want that high-calibre midfield man but you have to find him first and you have to be able to afford him. I am sure the same applies in central defence.
I also think Ferguson must now play Wayne Rooney in one position - as a striker. He has been used in midfield but he does not look right there. He has the talent to be the catalyst for recovery from this setback and he is best equipped to do that as an attacking threat, a creative force.
As for the manager, Ferguson will now use his vast experience to bring calm to Old Trafford. He will let the dust settle and then focus totally on getting back into the title race.
The elimination from Europe in such a manner is blow to the pride of a club of Manchester United's stature so now they must salvage something. If they can win the title it will not just be a salvation, it will represent another excellent season.
United's exit is another example of how fickle football can be. After their Community Shield win against Manchester City and a flying start to the season we were waxing lyrical about their squad, signings and young players.
Now it has all turned on its head - but at least they have Ferguson's experience to count on.