BFA and Zebras at loggerheads over incentives
By Mtokozisi Dube
BBC Sport, Gaborone
Last updated on .From the section Football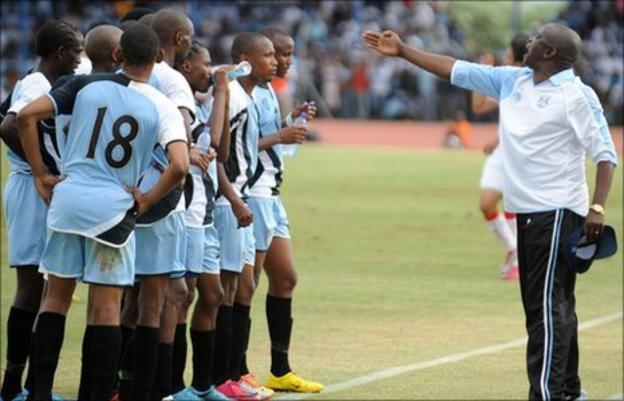 Botswana's FA (BFA) is at loggerheads with its national team over player remuneration ahead of next month's maiden Africa Cup of Nations finals.
The Zebras have written a proposal to the association outlining their financial desires.
Players are demanding 100,000 Pula (US$13,292) for every member of the final 23-man Nations Cup squad.
Each squad member also wants a US$2,000 bonus per win, and US$1,000 per draw, in the competition's group stages.
Botswana have been drawn in Group D along with Guinea, Mali and joint favourites Ghana.
The squad has further asked for a P35,000 (US$4,651) incentive for each player should the debutants progress to the knock-out stages of the finals in Equatorial Guinea and Gabon.
And where their previous daily allowance amounted to some P100 (US$13), the players have now requested a sum of P500 (US$67) per night.
"When you play for something you tend to have a target and determination," South Africa-based midfielder Mogogi Gabonamong told BBC Sport.
"Football is our source of income and we are playing it to improve our lives.
"This is why we need incentives at the Nations Cup."
Meanwhile, Botswana legend Diphetogo 'Dipsy' Selolwane and Jerome Ramatlhakwane, the team's top scorer in qualifying, have attacked the BFA over the issue on the social networking website, Facebook.
BFA president David Fani has responded by saying that the proposals are under consideration, with the association having engaged Botswana's government over the issue.
"We have received a proposal from the players in relation to the incentives for the finals," Fani said.
"The (BFA) executive committee has looked at it and we have forwarded it to the government through the Botswana National Sports Council (BNSC) with a request that we should meet over it so that we can look at it and take a position."
When asked about the issue, BNSC acting executive secretary Tinashe Rondai said his organisation was in constant consultation with the BFA but he would not divulge details of any pending meeting.
"In response to your query, please note we are in constant consultation with the BFA as our affiliate - however I am not liberty at the moment to go into further details on the issue," Rondai said.
The Zebras have received backing from an unlikely source - Doctor Khumalo, who won the Nations Cup with South Africa in 1996.
"In today's football we are talking about incentives that are very important and we can't shy away from that because players need to be compensated for their efforts," he told BBC Sport during a visit to Botswana last week.
"That needs to be taken care of, not a week before the tournament, but a month before the tournament."
The team is set to camp in Rustenburg, South Africa, next week ahead of spending ten days in the Qatari capital Doha from 26 December.
The 2012 Nations Cup begins on 21 January, with the final taking place on 12 February.