Nick Chadwick would consider longer Plymouth Argyle deal
Last updated on .From the section Football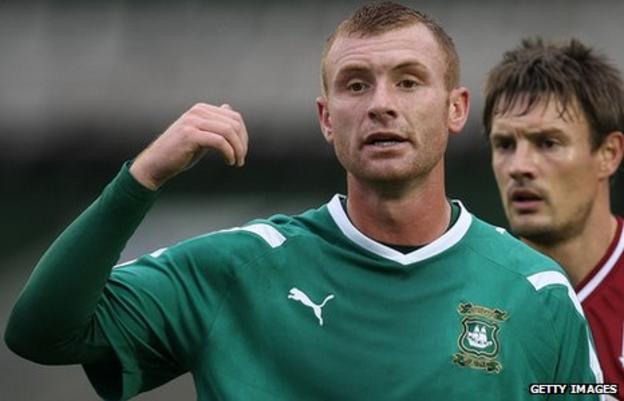 Plymouth Argyle's on-loan Stockport striker Nick Chadwick says he would consider staying at the club if he was offered a longer deal.
"You never know in football. Everything's got to be right for both parties," he told BBC Radio Devon.
"If everything's right for both parties then I'm sure something would happen."
Chadwick is confident that Argyle, who are bottom of League Two, are good enough to stay in the Football League.
"Looking at the players we've got and seeing them in training it wasn't a surprise how well we played against Northampton. It was more of a surprise that the club's where it is and the team's in the position it is," he said.
"It's about replicating those performances week in, week out. It's not about doing it one game and all getting carried away. "
Since Chadwick left Home Park he has seen Argyle fall from the Championship to the brink of relegation from the Football League.
The club almost went out of business earlier this year and were only saved when businessman James Brent took over and brought them out of administration.
"It's unbelievable to think what's gone on here - the club that I left and the club that I've come back to," he said.
"The club that I left was riding high in the play-off positions in the Championship and I've come back to a club where in the last 12 months they've struggled to pay wages.
"I was surprised and disappointed that it happened to this club but it's nice to come back and try and help put things right.
"Hopefully the club's on an upward curve and I can be part of it."