Namibia finally lodge Herve Zengue appeal with Cas
By Piers Edwards
BBC Sport
Last updated on .From the section Football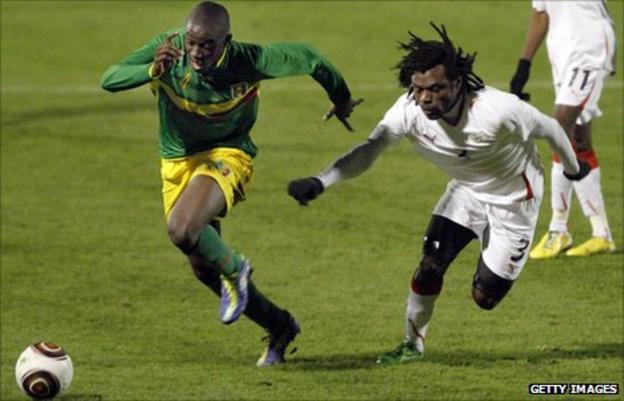 The Namibian FA has finally lodged its appeal against Burkina Faso player Herve Zengue with the Court of Arbitration for Sport (Cas).
The Namibians believe they could replace the Burkinabe at the 2012 Africa Cup of Nations should Cas find the Cameroon-born player ineligible.
The southern Africans have gone to Cas after the Confederation of African Football twice rejected their claims.
"Cas is our last call for delayed justice," said the NFA's Barry Rukoro.
Although African football's ruling body rejected the Namibians' appeal on 24 November, the NFA delayed its appeal until now following extensive consultation with its lawyers.
The Court of Arbitration for Sport - world sport's highest legal body - will have to rush through the case if this drawn-out matter is set to be resolved ahead of next month's Nations Cup.
Tournament regulations dictate that squads must be named on 7 January, two weeks before the tournament's start.
The Namibians believe that Caf's rules also stipulate that Burkina Faso would no longer be in a position to contest the Nations Cup should Zengue be proven to be ineligible, as they claim.
"We have decided to take on the journey of fighting for what we believe in and we will go all the way and in terms of the regulations that is Cas," Rukoro, the NFA's general-secretary, told BBC Sport.
"Regulations prescribe that it is the last instance of appeal and we respect that."
Burkina Faso have been drawn in Group B at next month's finals, in the same group as Sudan, Angola and co-favourites Ivory Coast.