I had belief as England manager - Steve McClaren
Last updated on .From the section Football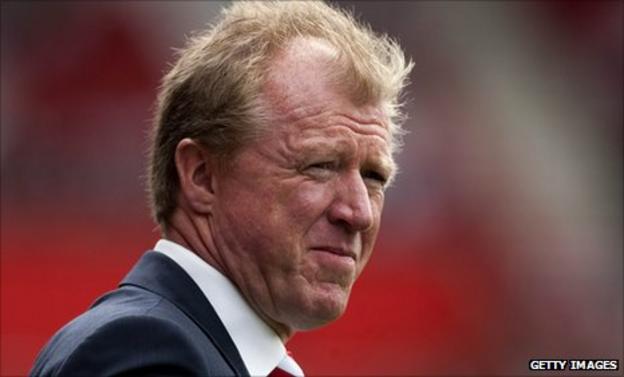 Steve McClaren has said he had total belief in his ability to manage England, and maintained he has no regrets on taking the post in 2006.
"I thought I could do the job," McClaren told BBC Tees.
"What I know now is that I didn't have enough experience, but I couldn't really turn it down."
McClaren added: "If you asked again, I still would have done it. I believed at that time I could have done it."
Since his exit as England boss, stints at FC Twente in the Netherlands and Wolfsburg in Germany preceded an ill-fated 112-day spell at Nottingham Forest that ended in October.
"I'm pleased I did it [the England job], because now it gives me opportunities," he said.
"It's given me lots of opportunities that possibly I wouldn't have got if I'd stayed at Middlesbrough and then gone to another club, to another club and to another club.
"It puts you in a certain profile and framework with people.
"It's probably more respected abroad. Going abroad gave me that perspective.
"It's ridiculed here but abroad if you're that successful and been at that pinnacle then there's that certain amount of respect for you."
Moving to the Netherlands was a successful move for McClaren, who led Twente to the Dutch Eredivisie title in his second season in charge.
It was his second trophy as manager, having led Middlesbrough to Carling Cup success in 2004.
In addition he was 90 minutes away from a European crown when his Boro side were beaten 4-0 by Sevilla in the 2006 Uefa Cup final.
"Deep down I just said I wanted to do this, but of course there was always a point to prove," he said.
"It's always another challenge, something you want to succeed at and you want to say: 'I told you, I can do this job'.
"I had so much support within the game. People can write and say what they like but support is what keeps me going.
"It was a case of dusting myself down, recovering, getting stronger and tougher and thinking: 'Right, I need to go and prove that again'.
"Going to Holland was difficult, but speaking to other ex-England managers you have to leave the country to get respect and reputation back.
"It was a good time. By winning the title, I felt tremendous satisfaction and pride. I just wanted to sit in the corner with a cold beer and say I could do it."
McClaren was the special guest on the John Foster Show on BBC Tees. You can hear the full interview again on the BBC iPlayer.