Harry Redknapp and David Moyes criticise FA after Wayne Rooney appeal
Last updated on .From the section Football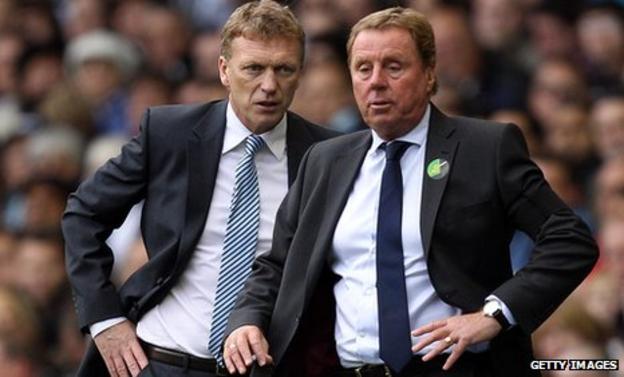 Harry Redknapp and David Moyes are the latest managers to criticise the Football Association following their appeal against Wayne Rooney's three-match Euro 2012 ban.
But Tottenham manager Redknapp said the stance "opens up a can of worms" and Everton boss Moyes said the FA was "a kangaroo court".
But Arsenal boss Arsene Wenger backed the FA.
Liverpool's Kenny Dalglish had said on Thursday that the FA failed to "set an example".
Rooney was given the ban, which ruled him out of the entire group stage of the 2012 European Championship, after kicking Montenegro's Miodrag Dzudovic in October's qualifier.
Redknapp said the organisation had double standards because, had a player committed an offence similar to Rooney's in domestic football, he believes a three-game ban would be upheld rigorously.
"For them to get it from three to two, it opens up a can of worms," he said.
"There will be clubs appealing against bans and they will want to know why they aren't getting it cut from three to two for similar situations.
"People will look at it and think, 'Hang on, the FA have gone and appealed against his [Rooney's] red, why can't we?'" he continued, adding that he was "delighted" with Uefa's decision from an England point of view.
Moyes said that while he supported the FA's action on Rooney, he contrasted it with their treatment of club appeals.
"You should see us when we try to appeal - it's absolute murder," the Scot said.
"I've got to say, the times that I have been in front of them, it's like a kangaroo court - you've got no chance."
Wenger said he found the FA's appeal in trying to get Rooney's ban cut "normal", adding: "Who wouldn't fight to get their best player out of jail? Maybe they [Uefa] should have given him two games at the start and there should be a fixed number of games [for a suspension] like there is in England."
Responding to Dalglish's criticism on Wednesday, the FA issued an official statement saying: "To promote speed and consistency, stakeholders in England agreed a standard formula encompassing a fixed penalty sanction should be applied across the game by the FA.
"The FA's system allows clubs to make a claim of wrongful dismissal - to reduce a sanction to zero - or appeal the severity of a sanction, both of these processes are dealt with prior to the player's next fixture.
"Uefa chooses to operate a different process for European matches, based on a sliding scale, under which each sanction is determined individually by a disciplinary panel."