Lennon disputes McCoist inference
Last updated on .From the section Football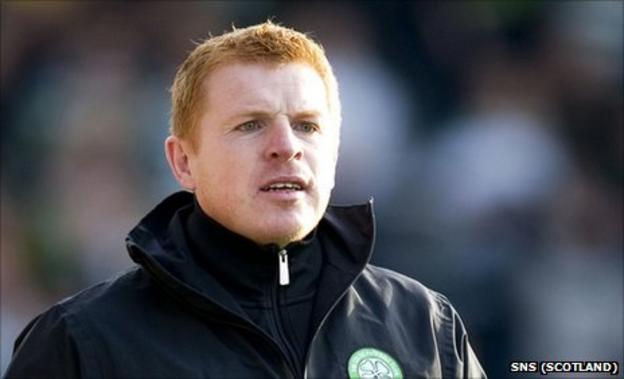 Celtic boss Neil Lennon has disputed suggestions by his Rangers counterpart that his team have been shown more leniency in disciplinary matters.
Angered by Sone Aluko's ban for simulation, Ally McCoist alluded to incidents involving Celtic players which went unscrutinised.
"I've not seen his comments and I don't want to get drawn into tit-for-tat," said Lennon.
"To talk about contentious issues against my team you'd be here all day."
McCoist had said he was "absolutely shocked and extremely angry" at the decision of a Scottish Football Association tribunal panel, who ruled that Aluko should serve a two-match ban for diving to win a penalty in Rangers' 2-1 victory over Dunfermline.
The Rangers manager pointed to incidents in other matches which he felt illustrated that other teams had been treated with more leniency.
"It seems to me that there are rules for some and rules for others," said McCoist on Thursday.
Among other incidents, McCoist alluded to one occasion where Celtic forward Georgios Samaras escaped punishment following a clash with Rangers goalkeeper Allan McGregor in an Old Firm derby last season.
And, in another this season, he also pointed to Motherwell midfielder Steve Jennings's claims that Celtic striker Gary Hooper deliberately hit him in the face, resulting in no SFA investigation.
"I can remember off the top of my head someone having a fly kick at our goalkeeper last season," said McCoist.
"I can also remember a goalkeeper having a go at Kyle Lafferty this season, and a Motherwell player getting elbowed this season.
"Nothing has been done about any of them and Garry O'Connor has obviously been found not guilty," he added in reference to the Hibernian player being cleared of diving to win a penalty.
Lennon, however, feels his team have received no special treatement.
"Did he (McCoist) infer that about one of our players?" asked Lennon when told about the Ibrox boss's comments.
"If you want me to go down that route and pour over contentious decisions that went against us, I will be here until Christmas," said Lennon.
"There hasn't been too many this season.
"We got one that went for us at Inverness (Greg Tansey's sending off after an aerial duel with Samaras) and a lot was made about that, a lot more than what should have been.
"Comparing that one with the one this week (Aluko), I find totally ridiculous and out of context."
Lennon believes the overhauled disciplinary system, incuding the fast-track panel which discussed Aluko's case, has to be given a chance.
"Not everyone is going to be happy with it. You win some, you lose some," said Lennon.
"These panels take each individual case on its merits. We in football just want a level of consistency from it and some people don't think we are getting that consistency.
"It gets highlighted more when an Old Firm player gets involved and, whether we agree with that process or not, it has been agreed at the start of the season and we have to abide with that."