Man Utd's Phil Jones 'is the new Paul McGrath' Mick McCarthy says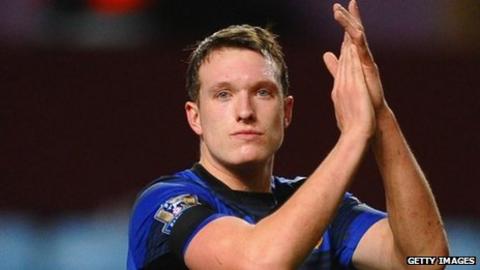 Phil Jones is the new Paul McGrath and will be one of Europe's top players, Wolves boss Mick McCarthy believes.
McCarthy says he tipped Manchester United boss Sir Alex Ferguson off about the former Blackburn man and was not surprised when he signed in the summer.
"I said he was one of the top players - I sensed [Ferguson] already knew that, but I was offering my opinion," McCarthy said of the utility player.
"He's just a fabulous player. He's got a great attitude too."
McCarthy played with former Manchester United, Aston Villa and Republic of Ireland legend McGrath, who could operate equally well in defence and midfield - and he sees the same qualities in Jones.
"I think he's one of the best around, whether he plays at centre-half, full-back or wherever.
"This is a kid of 19 or 20, and the only other bloke who played like that was Paul McGrath."
McCarthy witnessed Jones in action when his Wolves side played Blackburn, before they sold Jones to United for £17m.
"He was just dominant. He breaks out from the back with the ball and he's quick, he's good in the air, he seems to have two good feet. He's just got everything as a footballer.
"I would say he is nailed on for England's Euro 2012 squad.
"I really think he'll be one of the best players in Europe for a long time because he's fantastic."