Liverpool boss Kenny Dalglish & QPR's Neil Warnock praise Luis Suarez
Last updated on .From the section Football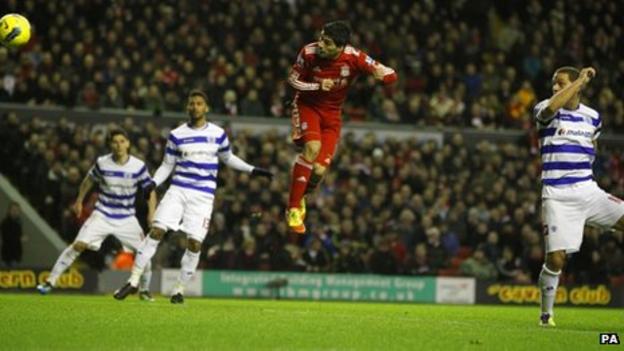 Liverpool boss Kenny Dalglish praised striker Luis Suarez for scoring the only goal against Queens Park Rangers.
Dalglish was delighted the Uruguayan was able to put some negative headlines behind him to score his first Premier League goal in more than two months with a second-half header.
"It was an excellent performance. We had a lot of chances," said Dalglish.
QPR boss Neil Warnock admitted: "They were the better side... but we showed great resolve."
Suarez has been in the news for all the wrong reasons recently, receiving a second Football Association misconduct charge this week for allegedly making an offensive gesture after Monday's defeat at Fulham.
The 24-year-old is also awaiting a date for a hearing into a racism-related charge which dates back to October.
But Dalglish preferred to focus on the positives.
"He scored with a header which doesn't happen very often and he played really well. It was well-deserved and well-taken."
Liverpool have struggled to find the net of late, and their inability to finish opponents off when on top has led some to question their chances this season.
Again, the Scot appeared unconcerned.
"It was an excellent performance," he said. "We had a lot of chances and we got one (goal), they never got any.
"One is enough when the others don't get an opportunity and the players showed great courage and belief in what they are doing to continue doing what they were doing well which was pass and move and creating chances.
"Some of the football we played in the first half was brilliant and I think we played better before we scored than after it - but even then we still created a few."
Warnock admitted Suarez had made the difference.
"I'm disappointed with the goal. Luke [Young] has put his hand up in the dressing room because he was marking him at the corner and just lost him.
"But that is the quality of people like Suarez, they find half a yard and I thought he looked amazing today - oh, to manage him."
Warnock was pleased with the effort his side put in against a team he acknowledged was superior in quality.
"They pass it around for fun and with the players they've got they're going to cause any team a problem.
"They were the better side. Most people in the ground might have thought we'd go four or five down but we showed great resolve.
"I was disappointed in our last third but I can't be disappointed with the effort.
"I was proud of them. I thought the goal revitalised us and we had probably our best spell afterwards."
Warnock also singled out back-up goalkeeper Radek Cerny for praise after the Czech made a number of good saves to deny Suarez and Maxi Rodriguez in particular.
"I thought Cerny was fantastic and I am really pleased for him.
"He is a top professional, 37, never thought he would play another game in the Premier League and here he is playing three times and being faultless in all three."