Scott Parker's talent wasted by England - Alan Curbishley
Last updated on .From the section Football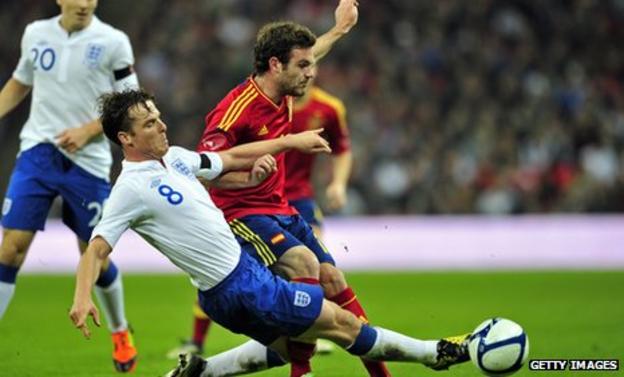 Alan Curbishley believes England have consistently wasted Scott Parker's ability and failed to unlock his true potential.
The 31-year-old is only just beginning to establish himself in the national side's set-up, much to the surprise of his former Charlton manager Curbishley.
When asked if he thought England had wasted Parker's ability, Curbishley told BBC Radio 5 live: "I think so.
"If you define his role as a holding midfielder, there's nobody better."
Parker's good form since moving to Tottenham Hotspur in the summer has caught the attention of England manager Fabio Capello, with the former West Ham skipper becoming a key player in the national team in recent matches.
However, Curbishley believes such recognition is long overdue for the midfielder.
"We saw the advent of [Claude] Makelele as a holding midfield player, [Nigel] De Jong is in there for Manchester City, and Scott Parker is up there with them all because he is so quick over the ground, he makes tackles and wins the ball," said Curbishley.
"We have been crying out for somebody in the England set-up to do that when you have the likes of [Steven] Gerrard and [Frank] Lampard either side.
"Parker would have been the ideal foil for them and I can't understand that [why he was not used more often in the past].
"He went off with the [extended] England squad to the World Cup in South Africa, before it got whittled down to the squad that went, and he didn't get in.
"That was a massive surprise to everybody because the way he played and trained in that week, everyone thought he was an absolute cert to be going and, if you look at the best countries around the world, especially at that World Cup in South Africa, Spain had two holding players, so did Brazil.
"Everyone had holding midfield players except us."