Blackburn manager Steve Kean bemoans injuries at Sunderland
Last updated on .From the section Football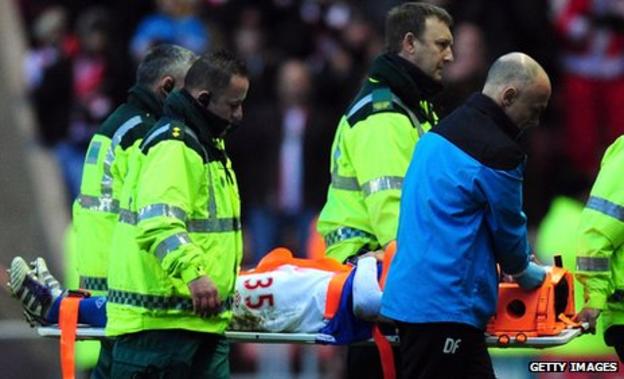 Blackburn manager Steve Kean admitted his side are suffering after their injury problems worsened during a 2-1 Premier League defeat at Sunderland.
Gael Givet (heart), Michel Salgado (ribs), Martin Olsson (hamstring) and Ryan Lowe (concussion) went off during the loss at the Stadium of Light.
Kean said: "We had to make a lot of changes. It's tough at the moment.
"Givet had heart palpitations. He's had it before and his pulse was pumping out of his neck."
The Scot added: "We needed to get him off because we could have ended up with a more serious set of circumstances.
"The doctor said there was a potential that he could collapse, so we had to just get him off.
"He has had it before in the past when his heart goes out of sync and starts to fire at a different time. We need to look at the big picture. He could have ended up with it much more serious.
"His heart-rate has settled again and hopefully he will be fine."
Givet was replaced by Olsson in the 22nd minute but the Swede had to be taken off himself after pulling up with his injury. Salgado departed in the 51st minute after failing to recover from a knock he sustained in a tussle with Phil Bardsley.
Lowe was carried off on a stretcher in second-half injury-time after being elbowed in the face by Sebastian Larsson as the pair challenged for a header. "He was out of it so they put a neck brace on," Kean explained.
The Blackburn boss says the blows affected the way his side performed. He added: "Givet felt his heart and then his replacement Olsson felt his hamstring. We were left with young players on the pitch and had Grant Hanley [a centre-back] playing at right-back.
"We were putting centre-backs on as full-backs. We were moving people around.
"Salgado took a nasty bang, I think he has broken a rib, and Jason Lowe is concussed and will have to be assessed."