Paolo di Canio slams Swindon Town after Bristol Rovers draw
Last updated on .From the section Football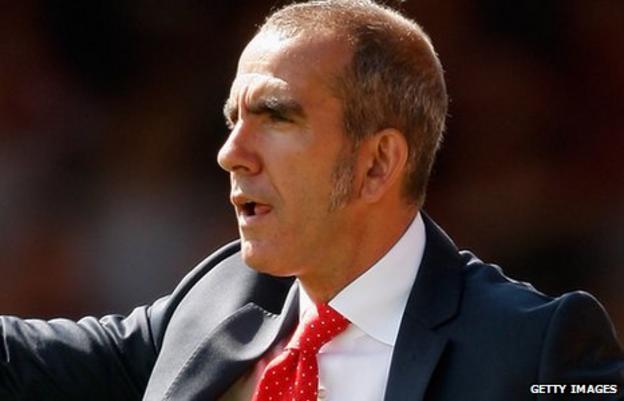 Swindon manager Paolo di Canio has demanded the club sign four or five new players after a poor display in their 1-1 draw with Bristol Rovers.
The Italian was left fuming after the Robins conceded a late equaliser at the Memorial Stadium on Saturday.
"I've already asked the chairman for three players, now I want four or five otherwise I will discuss my contract," he told BBC Wiltshire.
"With this team, and this mentality, I can't win the league."
He continued: "Today I didn't recognise this team as my team.
"After two minutes I said to Fabrizio [Piccareta, assistant manager] 'to win this game we are going to have to be lucky' because four or five players had no courage, no heart, no desire.
"If we play like today we deserve to be relegated."
Swindon have now gone 14 games unbeaten in all competitions and sit sixth in the League Two table, but Di Canio says despite this run he will consider cancelling the players' scheduled days off if they do not pick up maximum points at home to Morecambe next weekend.
"I have some experience in football. Christmas time is coming and for some of the players it's unusual for them to play over the Christmas period," he added
"Maybe they would like a winter break, they're thinking about shopping, organising somewhere to go next weekend for two or three days. That is typical.
"Their brains are somewhere else. Maybe Rafa's [Raffaele De Vita] is already in Italy? He is one but there are others - Mehdi [Kerrouche], [Lukas] Magera, [Lander] Gabilondo. I attack Gabilondo because I know he is better than this, and I get angry as his brain is probably in Spain.
"From now on I will not treat them as men, because six or seven don't deserve to be treated as a man.
"We arranged a day off after next weekend. If they don't win against Morecambe we don't have a day off. They are not man enough to have two or three days off to go and celebrate before Torquay.
"I'm sorry for the six or seven who always give their best but when we talk about a group, everybody must pay the price."