Euro 2012: BBC & ITV reveal choices of games
Last updated on .From the section Football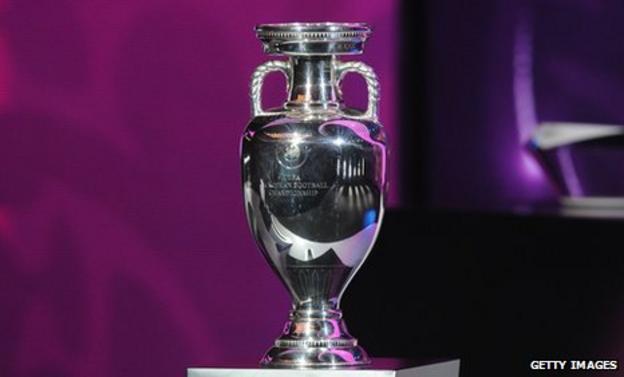 England's group game against Sweden at Euro 2012 on 15 June will be shown live on the BBC, who will also have first pick of the quarter-finals.
ITV will show England's opening group game against France (11 June) and their final game against Ukraine (19 June).
The Republic of Ireland's last group game against Italy (18 June) will also be live on the BBC, who will show both semi-finals.
The final, in Kiev, on 1 July, will be shown live on both the BBC and ITV.
The BBC's matches will also be streamed live on the BBC Sport website and via the BBC mobile platform.
A daily highlights programme will be shown on each match day, while the BBC will have commentary on all games on BBC Radio 5 live or BBC 5 live sports extra.
Philip Bernie, BBC head of TV sport, said: "The BBC is delighted to be showing the Uefa European Football Championship, a huge football event, which, along with the London Olympics, should ensure a fantastic sporting summer for BBC viewers.
"We are very happy with the live matches on BBC One, as they give us a strong climax to the event, with both semi-finals, as well as England's quarter-final if they progress.
"We also have some very appetising group games, including England's second match, against Sweden, in peak time, Ireland's final match, against Italy, and heavyweight clashes between the Netherlands and Germany and Germany and Portugal."
ITV's controller of sport, Niall Sloane, said: "I'm delighted that ITV has secured an outstanding selection of games through the tournament, which includes England's opening game against France as well as a potential peak time group decider against hosts Ukraine.
"ITV1 will also be the home of some terrific clashes between the top teams in Europe including Spain v Ireland, Spain v Italy, Portugal v Holland and Ireland v Croatia."
Group games
8 June: Poland v Greece (BBC), Russia v Czech Republic (ITV)
9 June: Netherlands v Denmark (BBC), Germany v Portugal (BBC)
10 June: Spain v Italy (ITV), Republic of Ireland v Croatia (ITV)
11 June: France v England (ITV), Ukraine v Sweden (BBC)
12 June: Greece v Czech Republic (ITV), Poland v Russia (ITV)
13 June: Denmark v Portugal (ITV), Netherlands v Germany (BBC)
14 June: Italy v Croatia (BBC), Spain v Republic of Ireland (ITV)
15 June: Ukraine v France (ITV), Sweden v England (BBC)
16 June: Greece v Russia (BBC), Poland v Czech Republic (BBC)
17 June: Portugal v Netherlands (ITV), Denmark v Germany (ITV)
18 June: Croatia v Spain (BBC), Italy v Republic of Ireland (BBC)
19 June: Sweden v France (ITV), England v Ukraine (ITV)
Knock-out stages
Quarter-finals (21, 22, 23, 24 June) - BBC has first & fourth picks, ITV has second & third
Semi-finals (27 & 28 June) - BBC
Final (1 July) - BBC & ITV