Raymond Verheijen's comments shock Iwan Roberts
Last updated on .From the section Football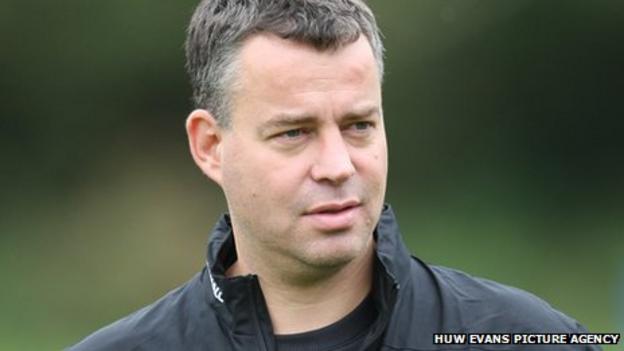 Raymond Verheijen's comments on leading Wales after Gary Speed are "selfish", according to ex-striker Iwan Roberts.
Assistant manager Verheijen wrote on Twitter on Sunday that he hoped the leadership of the national side would be decided by the Football Association of Wales (FAW) on Monday.
Roberts says he has been left shocked by the Dutchman's remarks, which come two weeks after Speed's death.
"What he put on there really left a bad taste in my mouth," said Roberts.
"Some of the things he's posted on Twitter have absolutely shocked me. [It's] very, very selfish."
When contacted by BBC Sport on Monday, Verheijen insisted he did not write he "wanted the job" on his Twitter account but refused to comment further when pressed.
The Dutchman, who previously worked with the Netherlands, Russia and South Korea, joined Speed's backroom team in February.
Despite a difficult start to his reign as manager, Speed won four of his last five matches in charge.
Wales begin their 2014 World Cup qualifying campaign at home to Belgium next September.
And Verheijen believes the FAW should give Speed's backroom team the opportunity to continue his work.
"Hopefully the board will respect Gary's wish so [fellow assistant] Osian Roberts and I can lead the team to Brazil," Verheijen wrote on Twitter on Sunday.
"There is no need for a new manager with new ideas. Our success was based on Gary's clear structure. Everybody knows what to do for mission Brazil 2014."
But Roberts, who played alongside Speed for Wales, is unhappy with the timing of Verheijen's comments.
"It's just over two weeks since we lost Gary and just over 48 hours since ," the former Norwich and Leicester player told BBC Wales.
"The timing's shocking and I don't think he should be putting his CV, if you like, on Twitter.
"He's touting himself for the Welsh job. He's put it out there in the public for everyone to see. That's the thing that sits really awkward and uncomfortable with me.
"He's upset and angered me in the past with some of the things he's posted but nothing [compares with this]. 'Gary's wish?' I find that quite astonishing when Gary's family are still grieving."
Roberts added that he understood the FAW would have to talk about Speed's successor at some stage.
"I don't think anybody will have a problem with them discussing the future," he said.
"Life goes on, as sad as it sounds. They will discuss how Wales now go forward after such a tragic event."
The FAW says it does not plan to discuss the issue of the national team manager during Monday's meeting.