Kettering Town's Mark Stimson hopes youngsters can stay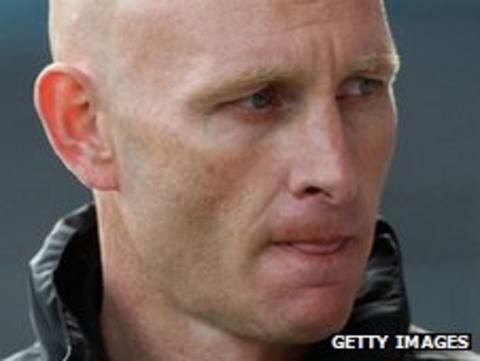 Kettering Town boss Mark Stimson hopes to retain the youth team players who debuted against Gateshead.
Eight youth team players bolstered the squad that lost the FA Trophy match 3-2, but five of them are ineligible for the Blue Square Bet Premier.
Stimson told BBC Radio Northampton: "We're disappointed to be out of the Trophy but there's so many positives.
"Hopefully things improve off-field and fingers crossed [the youngsters] can stay around."
Robbie Dance, Ollie Jones and Mark Pryor are the trio Stimson can call upon in the league, as well as the injured Jordan Cross, having been registered before the transfer embargo.
Aiden Bradshaw, Victor Kemjika and Harry Beckley made their debuts at the Gateshead International Stadium, whilst fellow youth team players Samuel Hayes and James Burrows were on the bench.
"We can't be too picky about who we can choose, but we've seen them out there and they're more than comfortable," said Stimson.
"Our interplay up the top end was outstanding - and only one of them was aged over 20. It'd be nice to get them in as often as possible."
Stimson revealed that some of the squad had been paid wages owed to them, and that others would receive their money by early January.
And Moses Swaibu, who had been on non-contract terms with the Poppies, is the latest player to leave the club as they prepare for Saturday's game with bottom-of-the-table Bath.
"Unfortunately we haven't been able to keep the same 11," Stimson said. "There's been so many ups and downs.
"We should've had a win in that [eight-match winless] run, but we just have to work hard and look forward to Saturday's game."