Nicolas Anelka will love Shanghai but not the football, says Jorg Albertz
By Chris Brierley
BBC Sport
Last updated on .From the section Football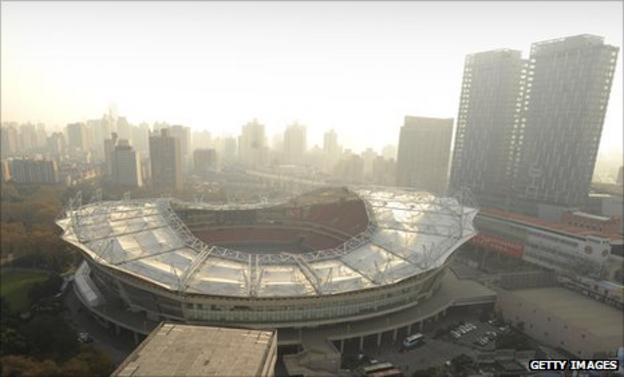 Nicolas Anelka will love life in the world's biggest city - but the football still leaves a lot to be desired.
That's the view of former Rangers star Jorg Albertz, who spent a year with Shanghai Shenhua from 2003-04.
Chelsea striker Anelka heads east in January after with the Chinese club.
Albertz believes the Frenchman will raise the profile of Shenhua and help repair the damage to Chinese football caused by corruption.
"Obviously you can't compare it with the Bundesliga or the Premier League or whatever," Albertz told BBC Sport.
"There is still a lot for them to learn. The boys are fit and can run a lot but technically they have a lot to do. And as a nation they have a lot to do.
"There is a lot of money to be earned and I think he has been over there to see how it works. He didn't agree to go there without knowing about it."
Albertz, a former German international who spent six years at Rangers, added: "It's a great experience for your life.
"Shanghai is a very big city and you can live there very good. I am surprised he is going over but he knows what he's doing.
"For Chinese football it is very important to sign some big-name players. The players who go over are a little bit older and they go to finish off their careers."
Like Anelka now, Albertz was 32 when he moved to Shanghai.
He made 47 appearances and scored 13 goals, winning the league and lifting the player of the year award in 2003, but left the following season.
Shenhua were implicated in match-fixing in their title-winning season during a game against closest rivals Shanghai International.
Referee Lu Jun and the head of the Chinese football association, Zhang Jianqiang, were officially charged with match-fixing, but Shenhua were not subject to any disciplinary action.
"I really enjoyed my time but the reason I came back was quite simple," Albertz, now 40, said.
"I thought gambling was going on in the league. I didn't have any proof or whatever and that's why I didn't say anything.
"The past has showed it now and I think there were a few investigations afterwards.
"It was true so I kept my mouth shut and made the decision to leave the country.
"At the end of the day if you are giving 100% for your club and you know maybe there are some players who are not performing that well...
"You want to have success. That's why you play football and that wasn't the case for me any longer.
"But a few years have gone by now. Hopefully that is all done and dusted and he will find a good organised league and he can enjoy himself there."