Aberdeen's Craig Brown cautious on possible deal for Russell Anderson
Last updated on .From the section Football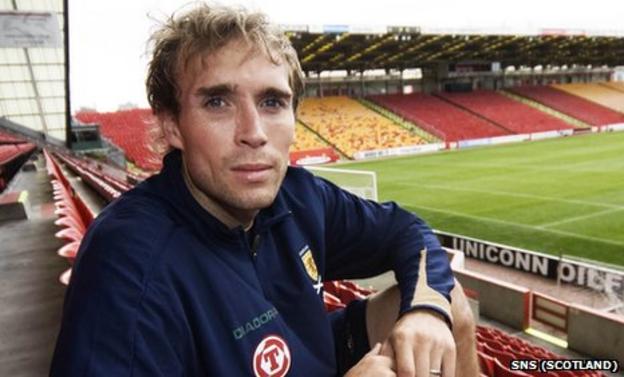 Manager Craig Brown believes Russell Anderson would be a wonderful signing for Aberdeen if the former skipper can prove his fitness.
The 33-year-old defender has been released by Derby and will use the facilities at his home town club as he recovers from a hamstring problem.
But Brown was coy on the possibility of a deal, stressing that he has no room to play with in his player budget.
"It would be a wonderful acquisition, if he's fit," said Brown.
"We'd love to have him back on the staff here, but it would require someone buying one of our players or players being attracted elsewhere.
"Our player budget has reached its limit and he knows that.
"And that reduces the immediate chance of him signing."
Anderson, capped 11 times for Scotland, left the Dons for Sunderland in 2007, netting Aberdeen a £1m transfer fee.
He began his career at Pittodrie and was captain of the club for the last four of the 11 seasons he spent at the club.
"I know him from way back and I have the highest regard for him as a person and a footballer," continued Brown.
Anderson's career has been blighted by a series of injuries since he left Pittodrie and he made just one first team appearance for Sunderland before loan spells with Plymouth and Burnley and his switch to Derby in 2010.
"He's coming back for rehabilitation," explained Brown.
"I spoke to him a couple of days ago and he requested the use of our physiotherapy facility.
"I had already spoken to him in the summer about the prospect of him coming here.
"He was on a good contract at Derby and wanted to stay and fight for his place.
"He got his place in the team and was playing.
"But now he has a long-term injury. It's a two-month job at least."
Current Dons skipper Richard Foster played with Anderson and would love to see him back in a red jersey.
"It would be great for Aberdeen, great for the dressing-room," he said.
"You could always rely on him. If you made a mistake, he would tend to bail you out and he demanded a high level of performance from you.
"He's come back from a few very serious injuries. He's got great mental strength."