Non-qualifiers Namibia in training 'for Nations Cup'
By Piers Edwards
BBC Sport
Last updated on .From the section Football
Namibia have begun training for next month's Africa Cup of Nations despite their current absence from the finals.
The Brave Warriors failed to qualify but believe they will replace group rival Burkina Faso at the tournament.
The Namibians are hoping for the Burkinabe's elimination, saying the Group F winners fielded an ineligible player in Cameroon-born Herve Zengue.
"We have started to prepare ourselves mentally for the Cup of Nations," said Namibia coach Bernard Kaanjuka.
The Court of Arbitration for Sport (Cas) is set to rule on the case, after the Confederation of African Football (Caf) twice rejected Namibia's claims.
However, Kaanjuka is extremely confident about Cas finding in favour of his side despite Caf's previous decisions.
"Everybody wants to come into the team as they know that we will play the Africa Cup of Nations," he told BBC Sport.
"What happened at Caf level was not a true reflection of the case but if Cas look into the details of the case, they will allow Namibia to participate at the Nations Cup."
The Namibians, who have only ever contested two Nations Cup tournaments in their history, are currently preparing for a friendly against Angola in Lubango on 22 December.
After breaking off for Christmas, the squad will undergo a training camp once again in the hope that Cas will rule in their favour.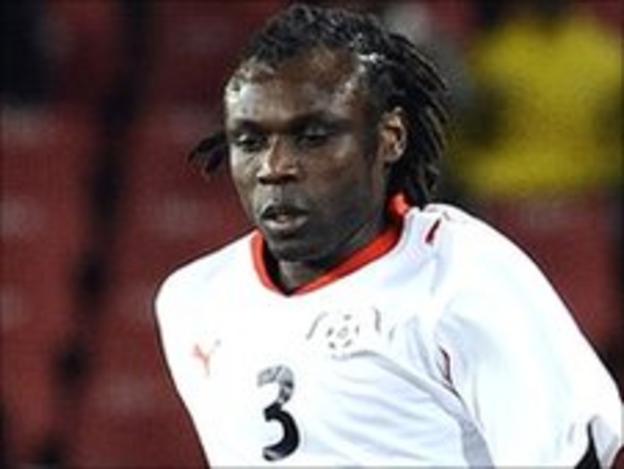 "After Christmas, the plan is to go back into camp again and look for one or two more friendlies," the coach explained.
"We are going to keep them in camp until the final outcome - but we are not going to push them hard (in training) for the final competition until we know the outcome."
In the event that the Brave Warriors replace Burkina Faso's Stallions at the Nations Cup, the Namibians would find themselves in the same group as the side they face before Christmas.
Joining the Burkinabe in Group B are joint tournament favourites Ivory Coast, Sudan and the Angolans themselves.
"For us to play Angola before the Nations Cup is not that good - but we need friendlies," said Kaanjuka.
"What I am going to do now is play with only local players as all our foreign-based players are busy with their leagues.
"It will also be good for me to know how Angola play, but I don't know whether they will invite their foreign-based players for that game."
The 2012 Nations Cup kicks off in Equatorial Guinea on 21 January, culminating with the final in the Gabonese capital Libreville on 12 February.