Hearts players prepare to take wages dispute to SPL
By Clive Lindsay
BBC Scotland
Last updated on .From the section Football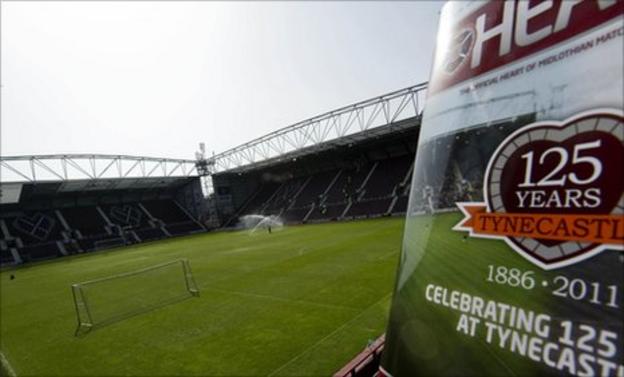 Some Hearts players are ready to sign a letter of official complaint to the Scottish Premier League over unpaid wages, BBC Scotland understands.
That would be enough to trigger an investigation by the governing body.
The majority of the first-team squad at Tynecastle have yet to receive their November salaries and their December pay is due on Friday.
And several Hearts players are ready to complain to the SPL should that payment not be forthcoming.
There appears to be a split in the camp over the appropriate course of action, with other players as yet unwilling to call in the authorities.
Hearts' squad, which has been advised by the Professional Footballers' Association Scotland, last week voted against walking out over the delayed payments.
But it would only take one player to make an official complaint to the SPL to give it the power to act.
The Scottish Football Association has told the union that it is not within its power to intervene, while the SPL has ruled out suggestions that it could withhold money from Hearts in order to pay the players directly.
However, SPL chief executive Neil Doncaster admits that an investigation would be forthcoming should he be requested to carry one out on behalf of one of the Edinburgh club's players.
"We cannot do anything until we receive a complaint," he told BBC Scotland.
"However, should we receive a complaint, the SPL has a duty to investigate and adjudicate on that contract."
Hearts owner Vladimir Romanov recently stated his willingness to sell the heavily indebted club, with a hefty tax bill being initially blamed for the delay in wages.
The club has stated its desire to significantly trim its wage budget in the coming months and striker Calum Elliot on Monday became the third player this month to agree an early termination of his contract.