Russell Anderson seeks home comfort at Aberdeen
Last updated on .From the section Football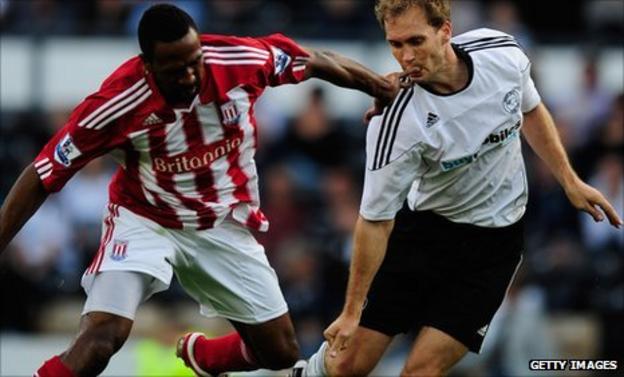 Russell Anderson is praying he can overcome years of injury hell and earn himself a second spell at Aberdeen.
The former Scotland defender is back training with his former club after being released by Derby County.
"If it pans out like I hope it does then you never know," he said ahead of an expected further two months recovering from a hamstring injury.
"But that's a little way off at the moment. I just want to concentrate on getting fit, first and foremost."
Having come through the youth ranks to become a Dons stalwart, Anderson moved to Sunderland for £1m in 2007.
But his time at the Stadium of Light was blighted by spells of serious injury and he made only two appearances for the English top-flight club.
He was loaned out to Plymouth Argyle and Burnley before joining Championship outfit Derby in January 2010.
The 33-year-old rejected an approach from Aberdeen this summer but again had his season disrupted by injury and his latest hamstring problem led to the termination of his contract.
"That's the reason why we came to an agreement with Derby," Anderson told BBC Scotland.
"If it had been a situation where I might have been back in three or four weeks then I don't think the manager would have been so keen to come to an agreement with me.
"It has been really disappointing. I've come back on two or three occasions thinking that I would give myself a chance at whatever team I have been at only to encounter another problem.
"It has been frustrating for me and I'm sure it was frustrating for the managers who have been looking for me to play for them.
"But I am where I am and I've just got to get on with it now and look to see if I can come back from this one."
Anderson begins his rehabilitation at Aberdeen realising that, even when he returns to fitness, manager Craig Brown might not have the funds to sign him.
"I know exactly where I stand," said the defender. "I asked for the opportunity to come back and use the facilities to try to do my rehab and get fit.
"And then, after that, we will just have to take it as it comes.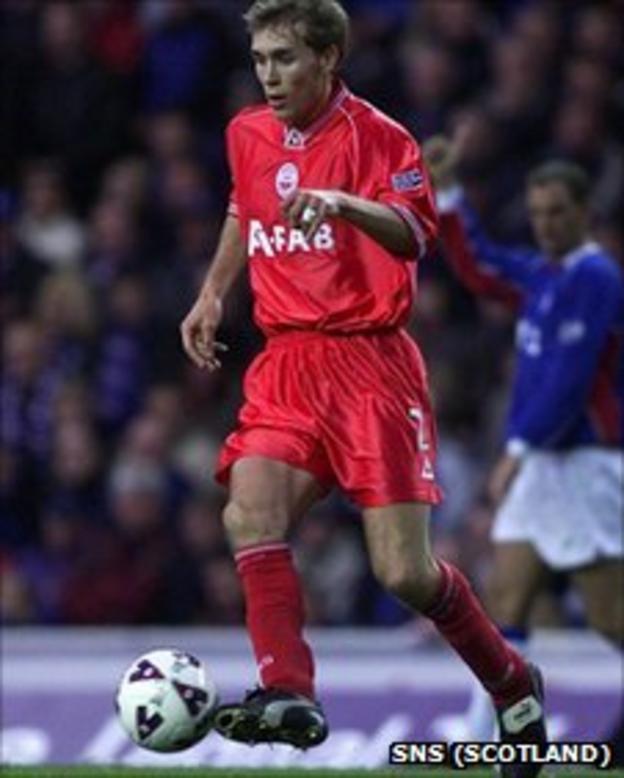 "I have torn my hamstring this time. It was bad enough that it needed an operation.
"I'm five weeks into that rehab, so the hard work starts round about Christmas."
Other clubs will be alerted to his availability, but he hopes that the Dons will be in a position to make an offer.
"I would like to think so, but I am not naïve enough to think that, just because I've played here before, that will guarantee me a contract," he said.
"I completely understand the financial situation at the club and most clubs in Scotland.
"They are not going to throw good money after bad if I can't prove my fitness.
"I would only hope to get a contract if I fully merit one and that will come down to how I do in my rehab."
Brown certainly remains interested in Anderson while realising the realities of Aberdeen's finances.
"We've had a very fair player budget and we reached the top of the budget when we signed Rory Fallon," he said.
"For someone to come in, someone has to go out.
"If there is a feeling that they are prepared to relax the budget for the acquisition of Russell, it doesn't guarantee that we will get him because it would not be surprise me in the slightest if other clubs are interested in Russell Anderson.
"You may say Russell Anderson is not just someone, he's someone special.
"So, whether they will relax the player budget for that circumstance, I do not know. I haven't asked."