Chelsea's Frank Lampard admits confusion at substitute role
Last updated on .From the section Football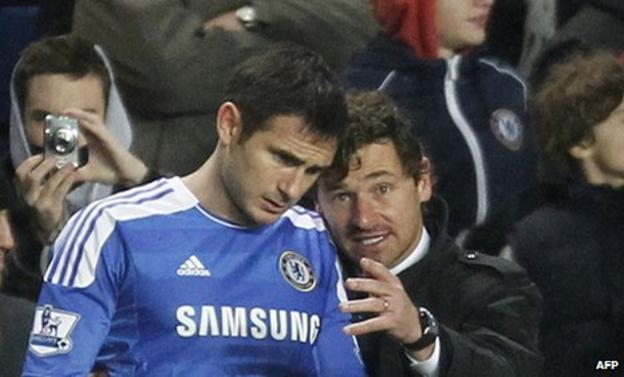 Frank Lampard says he cannot understand why he is being left out of Chelsea's starting line-up and claims boss Andre Villas-Boas has not explained why.
"I want to play, simple as that," Lampard told BBC Sport. "I'm as fit as I've ever been. I've been in a good run of form and now I've not been playing.
"I haven't spoken [to Villas-Boas] so I don't know [why], simple as that."
City had taken the lead early on through Mario Balotelli before Raul Meireles levelled before half-time.
Lampard was introduced by Villas-Boas on 73 minutes and scored Chelsea's 82nd-minute winner from the penalty spot.
He had been left out of Chelsea's first team for the second successive match, but had started in five of the Blues' six games before that.
He added: "I want to play. If I didn't, there wouldn't be any point turning up, so maybe there's a bit of frustration because of that.
"I just want to play and I like to play well. I'm always at my best when I'm playing regularly. I know I've got a lot to give.
"I just want to be on the pitch and let the football do the talking."
Chelsea midfielder Juan Mata gave his support to Lampard, saying: "Lampard is a legend here, a legend who keeps on providing a lot of good to the club.
"He is a great presence to have in the dressing room and, for me, he is a standard-bearer for the entire world of football.
"He has the experience to remain calm, even when he's not playing, to know that there will be times when he will play because there are so many games.
"He still has a lot to give. He will score a lot of goals and play a lot of games this season."
Lampard's winner at City ensured that Chelsea moved up to third place and are seven points behind Roberto Mancini's Premier League leaders.
Chelsea trail second-placed Manchester United by five points and are ahead of Tottenham on goal difference, although Harry Redknapp's team have a game in hand.