Nicky Butt backs Manchester United youngsters to bounce back
Last updated on .From the section Football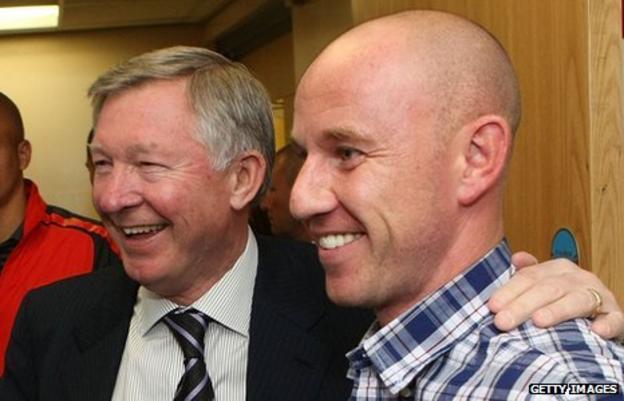 Former Manchester United midfielder Nicky Butt says Sir Alex Ferguson will successfully guide the club's young first team through their current blip.
Butt won six Premier League titles at Old Trafford after being part of 'Fergie's fledglings', the United youth team that won the FA Youth Cup in 1992.
He feels the current crop can overcome the disappointment of their recent Champions League exit.
"It is a massive test but it's one I think they will overcome," said Butt.
"They need to get over the blow of going out of the Champions League pretty quickly if they are going to get anything from this season.
"It's important to bounce back from bad results when you play for a club like Manchester United and it will be a test of character to see if they can do that.
"They haven't got the experienced players, they have young players and they started the season pretty well but they're having their first blip now.
"Everyone goes through that in their careers and it's up to them to prove they are good enough to play for this club."
United are only two points behind Premier League leaders Manchester City, whom they face in the third round of the FA Cup next month.
But despite only losing once in league football this season, questions have been asked of the team after their Carling Cup defeat to Crystal Palace and a first Champions League exit at the group stage since the 2005-06 season.
Injuries have started to pile up too - midfielder Darren Fletcher is on extended leave due to health reasons and defender Nemanja Vidic is out for the season with a knee ligament injury.
Those absences are likely to put further pressure on United's youngsters, but Butt feels this will act as an incentive for the club's junior players.
"You're there to be shot at when you play for a big club and they have to accept that," he added. "They have to take it from certain people and maybe deserve that.
"Maybe they deserve a bit of a kick up the backside but with the people they've got around them and the manager they've got there, they'll be okay with that."