Stephen Small sacked as Carrick Rangers manager
Last updated on .From the section Football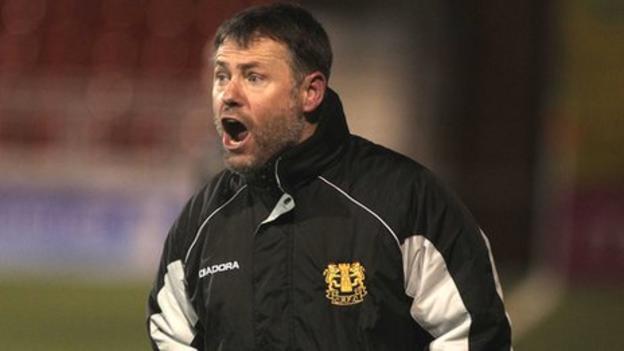 Carrick Rangers have sacked manager Stephen Small after the team slipped to the bottom of the Carling Premiership.
Small, who was manager from 2006, took the club back into the top-flight this season after winning the Championship title.
"The club have made a decision. I don't agree with it but I wish them all the best as it's a great club," he said.
Former NI player Michael Hughes, the majority shareholder at Carrick, has been placed in temporary charge.
"I've enjoyed my time with Carrick and was confident of staying in the division but I'm looking forward to staying in football with a new challenge," added Small.
Carrick returned to the top tier of local football for the first time since 1994-95 with their promotion earlier this year.
Rangers lost 2-1 at Donegal Celtic last Friday and they replaced Glenavon at the bottom when the Lurgan Blues beat Ballymena United the following day.
The team have played their home games at Seaview this season because of work at Taylor's Avenue.