Blackburn Rovers deny reports of financial crisis
Last updated on .From the section Football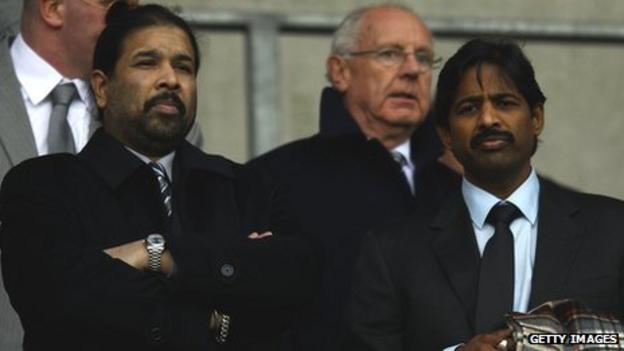 Blackburn have released a statement strongly denying reports in the Mail on Sunday that the club is heading for a financial crisis.
"There is no financial crisis, and there is absolutely no danger to the players' and staff wages," read the statement on the club's website.
It added that the club is in talks with Barclays over how the bank can continue to support Rovers in the future.
The struggling Premier League team are owned by Indian poultry firm Venky's.
This has been the case since November last year when the Rao family, who own Venky's, took over the Lancashire club in a deal worth £43m, £20m of which was acquired debt.
Their reign has been met with widespread opposition from Blackburn fans unhappy with their running of the club.
In November this year, the owners insisted they were not interested in selling Rovers after Middle East oil giant Qatar Petroleum were linked with a potential takeover.
Reports emerged over the weekend claiming the owners had received a demand from the bank to pay £10m to help to pay off the club's debts.
Manager Steve Kean, who has also been a target of the fans' discontent, insisted he knew nothing about such a situation following Sunday's 2-1 defeat at Sunderland and now the club have now moved to publicly deny the report.
"Amongst all professional football clubs, finances are regularly assessed and reassessed during the season based on performance, income and costs, and at Blackburn Rovers this is no different," explained finance director Karen Silk in a statement.
"Barclays Bank and Blackburn Rovers have enjoyed a long relationship over many years and are currently in constructive dialogue about how the bank, along with the owners, can support the club for many years to come."
Blackburn are currently second bottom of the Premier League table with 10 points from 15 games.