Yaya Toure guilty over Africa Cup of Nations departure
Last updated on .From the section Football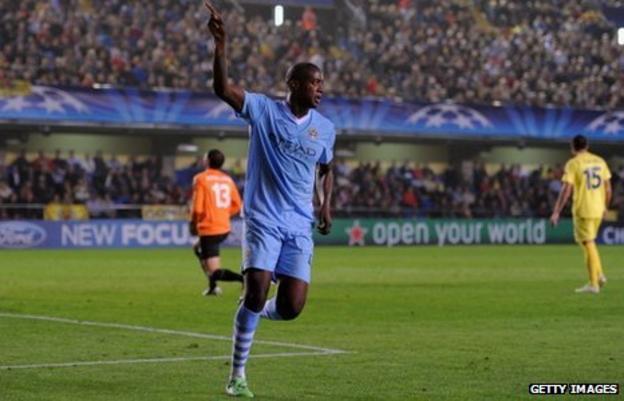 Manchester City midfielder Yaya Toure admits he feels "guilty and confused" about having to leave to play in the Africa Cup of Nations next month.
Toure is required by the Ivory Coast for the tournament in Gabon and Equatorial Guinea from 21 January.
"Our country needs people like me and Drogba at the moment," Toure said.
"There is a war again and it's important we do what we can for our people. It is dangerous and people are afraid.
"The team, the club and the manager needs me and I do feel a little bit guilty and confused about leaving."
Just a year after conflict over a presidential election brought Ivory Coast to the brink of civil war, scenes of violence which accompanied recent elections have led to fears of another similar situation.
Although there is no civil war as such to speak of in the west African country, Toure says playing for his country can help calm the tensions.
"I have to go because my country is going through some difficult things with the war. City will cope," he said.
However, the Manchester City midfielder may be allowed to delay his departure so he can figure in two key cup matches.
City play city rivals United in the FA Cup third round on 8 January, with Liverpool visiting in the first leg of the Carling Cup semi-final three days later.
The Ivory Coast would be within their rights to summon Toure - and brother Kolo - with Fifa rules stating that participating nations can call on players to report for duty up to 14 days before the start of a major tournament.
However, Ivory Coast counterpart Francois Zahoui has links with City boss Roberto Mancini after playing for Ascoil in Italy in the early 1980s - and the Italian hopes to have the Toure brothers in his squad for both cup matches.
Yaya Toure is adamant, however, that City's squad is strong enough to cope with the absence of the pair, should they be required to miss both ties.
He added: "We have fantastic players who can take my place. I will not be away for a long time and I want to come back and help us win the league."
Ivory Coast have been drawn in Group B of the tournament alongside Angola, Burkina Faso and Sudan.